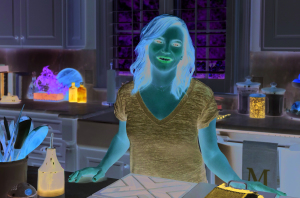 Martina McBride hosts "Martina's Table"
Whether it's country singer Trisha Yearwood with "Trisha's Southern Kitchen" or "Hot in Cleveland" actress Valerie Bertinelli with "Valerie's Home Cooking," it seems like more and more entertainers are finding second careers with cooking shows. The crossover between popular entertainer and entertaining cook isn't all that surprising, with the boundless creativity that brings success in a studio also lending itself well to coming up with incredible dishes in a kitchen.
Country superstar Martina McBride joins the growing ranks of entertainers-turned-TV chefs when "Martina's Table" premieres Sunday, Nov. 18, on Food Network. The decorated artist has been a force to be reckoned with in the country music industry since the early 1990s, and now she's inviting her fans into her own kitchen for a peek at where she channels her creativity when she isn't in the studio or on tour.
It's Thanksgiving at Martina's place in this week's premiere, and her whole family is home for the holiday. Never one to let a belly stay empty for long, our host draws inspiration from her Kansas roots as she prepares some of her favorite seasonal recipes -- sharing every step along the way with those of us watching from home.
Whether it's mouthwatering candied pecans or cornbread stuffing that's loaded with savory sausage and sweet cherries, even the most humble of side dishes receives a discerning attention to flavorsome detail that keeps her family and friends coming back for more. And speaking of friends, she'll have a few famous ones swinging by for a bite to eat over the course of the season, including country singer Faith Hill, Little Big Town members Karen Fairchild and Kimberly Schlapman, and music superstar Sheryl Crow.
"I've always had a passion for cooking and love to cook for my friends and family," McBride said in a statement announcing her new series. "Having a show on Food Network is a dream come true. We've filmed the first season and it's been so fun and exciting to be able to share some of my favorite recipes and stories."
McBride is known for the passion that she brings out in her music, and her food is no different. "Martina's Table" premieres Sunday, Nov. 18, on Food Network.