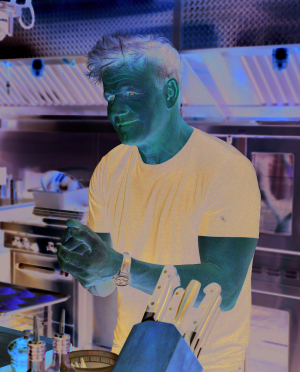 Gordon Ramsay in a scene from "24 Hours to Hell and Back"
Look out, failing restaurants: help is on the way, but it's a whirlwind sort of tough love. Fox rings in the new year with a second season of "Gordon Ramsay's 24 Hours to Hell and Back" on Wednesday, Jan. 2, and the chef with a notoriously short fuse is back on the road.
The series takes a page out of the book of Ramsay's former show, "Kitchen Nightmares." Each episode follows the chef as he visits a failing restaurant and uses both his culinary know-how and business expertise to try to help the owners keep their lights on and customers coming through the doors. It's not always an easy task, and with only 24 hours to turn things around, Ramsay's challenge can sometimes feel downright impossible.
Before chef Ramsay even arrives at his destination, an undercover team poses as customers in order to gather information and send feedback to the chef. Once he arrives with the feedback in hand, he personally evaluates the situation before he reworks the menu, retrains the staff and even renovates the restaurant. It's a lot to do in just 24 hours, but luckily chef Ramsay has a state-of-the-art helper in his back pocket.
The chef arrives at each destination in "Hell on Wheels," a 70-foot-long semi-truck that folds out into a state-of-the-art kitchen. While his renovation crew is busy sprucing up and modernizing the restaurant's interior, Ramsay does the same with the restaurant's menu, and he retrains the kitchen staff so they can feel confident putting out Ramsay's delectable dishes.
Of course, like in "Kitchen Nightmares" or the similar "Restaurant: Impossible," having a successful chef lend a helping hand isn't a magic pill that can save any business. Websites abound that keep track of the successes and the failures of the various restaurant rescue shows, and while virtually all of the businesses that appear in these shows experience a business bump by curious viewers, it isn't always enough to save them in the long run.
That said, having an outside expert come in to impart his wisdom certainly can't hurt, and if there's anyone who knows the ins and outs of the restaurant business, it's Gordon Ramsay. Catch "24 Hours to Hell and Back" when it returns to Fox on Wednesday, Jan. 2.