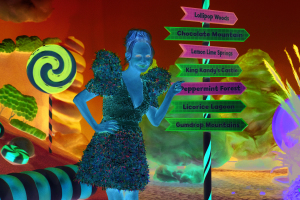 Kristin Chenoweth hosts the season finale of "Candy Land"
Christmas is just a few days away and for many of us, holiday preparations have reached a fevered pitch. Food Network isn't immune to the frenzy, either — its holiday programming is wrapping up and this is the week for some big finales.
The first season of "Candy Land" concludes on Sunday, Dec. 20, with a king-sized (and king-themed) challenge. Host Kristin Chenoweth ("Pushing Daisies") will task the final two teams to come up with a one-of-a-kind gift to impress King Kandy, as well as judges Nacho Aguirre and Aarti Sequeira. Their cake and sugary confections will have to look good, but they'll have to taste good, too, since the challenge includes a tasting element. The ultimate winner will go home $25,000 richer.
"The Big Bake: Holiday" also ends its run this week. In the season finale, airing Monday, Dec. 21, the baking teams will have to rise to the challenge after host Brad Smith tasks them with building Christmas tree cakes. The winner will be determined by judges Harry Eastwood, Duff Goldman and Eddie Jackson.
"Big Bake" isn't the only finale airing on Monday. "Holiday Baking Championship," one of the heavy hitters in Food Network's 2020 holiday roster, is also going out on a high note this week and, while its finale airs on Monday, the wrap-up is actually a two-night affair.
A one-hour special, "Holiday Baking Championship: Sweet Secrets" is scheduled to air Sunday, Dec. 20. Judges Nancy Fuller, Duff Goldman and Carla Hall will take a look back at the competition so far and trace the individual journeys of the final four bakers. They'll reveal the best bakes and slip-ups, but viewers will also gain some insight into the judges' decision-making process while enjoying a behind-the-scenes view of how the show is made.
As for the "Holiday Baking Championship" finale on Monday, Dec. 21, expect to see host Jesse Palmer dressed like a Christmas tree, since that's the theme for the first challenge. Of course, there's a twist: the final four competitors must honor the traditional tree by building a magnificent macaron tower — the kind you'd see in a Ladurée window display.
For their final challenge, the bakers will be assigned an icing style as they rush to create a cake that represents a specific time period — there's marzipan for Christmas past, buttercream for Christmas present and mirror glaze for Christmas future. And then it all comes down to judges Nancy Fuller, Duff Goldman and Carla Hall to decide who will be crowned Holiday Baking Champion and awarded the $25,000 prize, which will hopefully help make this season extra merry and bright.