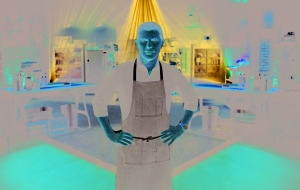 Bobby Flay as seen in "Beat Bobby Flay"
It's that time of the year! Love is in the air, and with Valentine's Day upon us, chef Bobby Flay is embracing two of the things that he loves most: fantastic food and the thrill of competition.
This week's episode of "Beat Bobby Flay" is all about chocolate, that most decadent of foods and a classic Valentine's Day treat. Airing Thursday, Feb. 14, on Food Network, the episode finds culinary personalities Valerie Bertinelli ("Valerie's Home Cooking") and Alton Brown ("Iron Chef America") struggling to choose between two chefs eager to challenge Flay to a culinary showdown.
Challenger David Lebovitz is an acclaimed pastry chef for whom working with chocolate is second nature, but he's met his match in Ryan Scott, a jack of all trades who is more than capable of putting a savory spin on the tasty ingredient. As in all episodes of "Beat Bobby Flay," the two chefs go head to head in a cookoff, with Bertinelli and Brown deciding which one of them gets to throw down with the show's namesake.
Flay has long been Food Network's most recognizable culinary battler. He first rose to fame during his appearance in the Japanese version of "Iron Chef," and was one of the original chefs chosen to be an Iron Chef in "Iron Chef America." He previously starred in "Throwdown! With Bobby Flay," which saw him challenge chefs to see who could make the better version of their specialty dishes.
"Beat Bobby Flay" definitely has elements of "Throwdown," especially in the second round where the chosen chef finally gets to, well, throw down with Flay. Unlike in the first round, in the second it's the challenger who gets to decide what dish both Flay and his competition must cook, and the judges taste both dishes blind, without knowing which chef cooked which.
Even with the cards stacked against him, Flay wins far more often than he loses. He isn't just a great chef, he's also an incredible competitor who relishes the rush of the challenge. Chocolate can be a tricky ingredient to work with, but if anyone can handle it, it's Bobby Flay. Catch the new episode when it airs Thursday, Feb. 14, on Food Network.