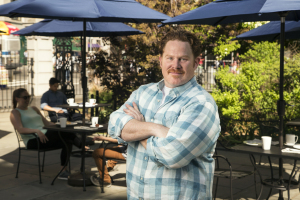 Casey Webb hosts "Man v. Food"
Food challenges and eating competitions are nothing new: Nathan's Hot Dog Eating Contest has been going strong for more than 100 years, and so has the Crown Candy Kitchen challenge in St. Louis, Missouri (you have 30 minutes to down five 24-ounce malts).
But a more recent phenomenon is the number of restaurants worldwide that are offering food challenges. That's often credited to the food destination/competitive eating series "Man v. Food," which is back this Tuesday, Feb. 25, on Cooking Channel.
"Man v. Food" originally ended in 2012 -- that's when host Adam Richman signed off after three seasons of "Man v. Food" and one season of "Man v. Food Nation," which had Richman coaching locals instead of taking on the challenges himself. Travel Channel then canceled the popular series, though you probably wouldn't know it with all the repeat airings on Travel and Cooking Channel.
These days, a slimmed-down Richman is still involved in the culinary world as a critic, author and occasional host. But his popularity endures, as evidenced by a collective online meltdown in 2017 when fans heard that Travel was rebooting "Man v. Food" with a new host.
Luckily, former-bartender-turned-professional-eater Casey Webb has been able to win over fans in his four seasons as host of "Man v. Food." The New Jersey native takes the challenges seriously and has shown he's up for almost anything (but not live shrimp). Spice levels can make things especially tough, regardless of quantity. Still, there's something to be said for watching Webb attempt to eat 12 fully loaded hot dogs in just 30 minutes.
For participants, these types of challenges are a question of pride and a fun test of endurance and determination (and stomach muscle control). But for the eateries, it's a marketing opportunity.
According to National Restaurant Association stats, there are more than a million restaurants in the U.S., and, of course, each one would love to fill every seat in the house. Food challenges are a fun way to set an establishment apart and keep customers coming in the door, whether they're willing to try the challenge or simply watch and cheer on someone else.
Sure, "Man v. Food" and the phenomenon of food challenges have drawn a fair amount of criticism (Alton Brown condemned the show as a gluttonous display). But many are still fascinated by stomach-stretching feats. And that's why viewers will keep tuning in to "Man v. Food" episodes past and present, including the one airing Tuesday, on Cooking Channel.