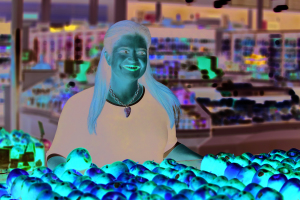 Alex Guarnaschelli hosts "Supermarket Stakeout"
If you're a contestant on a Food Network show, you need to have the cooking chops to impress the judges. Time-management skills are also a must, because that clock is unforgiving. And a little luck never hurt anyone.
But contestants on "Supermarket Stakeout" are going to need a whole lot of luck, plus some charm and strong negotiation skills, too.
Premiering Tuesday, Aug. 13, the star vehicle for Food Network judge par excellence Alex Guarnaschelli is reminiscent of "Chopped," but without the well-stocked pantry I envy so much.
True to its name, the competition does involve a trip to the supermarket. But here's the twist that will make every introvert shudder: the four contestants won't actually be stepping inside the store. They'll have to approach shoppers leaving the store and persuade these kind folks to sell them their groceries.
Contestants will have a budget of $500 apiece to get things done and get cooking in the pop-up kitchen set up outside the store. If $500 sounds like a lot, keep in mind that amount has to cover (potentially) three rounds of themed challenges.
In Round 1, contestants won't even get to peek inside the bags they're blindly haggling over. For Round 2, they can only buy their groceries from one shopper, but they'll be allowed to sneak a peek at what's inside the bags. For the final round, competitors only need five ingredients. And they'll be allowed to shop around for what they need (by "shop," I mean wander the parking lot to see which shoppers bought the ingredients they have in mind).
A rotating panel of judges will handle the eliminations based on which contestant prepared the least successful dish with the ingredients they acquired. At the end of each episode, the winner will win a cash prize to cover a year's worth of groceries (to be purchased inside their local supermarket).
Part of the show's appeal lies with Guarnaschelli, who will be hosting the new show. A good-humored straight shooter, you can always count on her to dish out fair and honest criticism on "Chopped." And I expect nothing less with this series.
The Iron Chef/cookbook author/restaurateur recently upped her involvement with Food Network by signing an exclusive deal. Under its terms, Guarnaschelli will be kept busy with a number of online and on-air projects, including a recurring co-host gig on "The Kitchen"; her continued involvement with "Chopped; a new digital series, "Fix Me a Plate"; and, of course, "Supermarket Stakeout," which premieres Tuesday on Food Network.