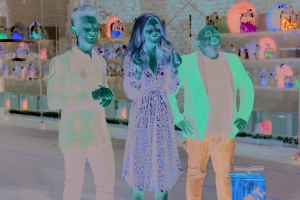 Dan Langan, Waylynn Lucas and Duff Goldman in "Cake-Off: New Year's Eve"
Get ready to pop some bubbly and count down the final moments of 2019!
We've seen the return of favorites like Alton Brown's "Good Eats," and we witnessed a few missteps, too, (remember the tension of "Buddy vs. Duff"?). We've watched the rise of emerging Food Network stars like Molly Yeh ("Girl Meets Farm") and, judging by the ratings, we remained fiercely loyal to some familiar faces, too.
In terms of food trends, 2019 may very well be the year of the Keto diet, avocado toast and plant-based alternatives. (My predictions for 2020? You're gonna hear more about oat milk, zero waste and flexitarian diets.) Still, cake continues to reign supreme on Food Network, which is winding down one of its most ambitious holiday lineups yet -- but not before debuting a new end-of-year special.
"Cake-Off: New Year's Eve" premieres Sunday, Dec. 29. This hour-long special pits four professional bakers against one another in a heated competition that's more about design than flavor (but a terrible-tasting cake never wins).
A cake is the ultimate combination of food and visual arts, and bakers are constantly pushing the boundaries. Expect no less from the "Cake-Off" competitors, whose creations must reflect the theme of change through the years.
There's a catch, of course: Each cake must also embody the spirit of New Year's Eve by transforming from old to new. And to win the $10,000 grand prize, the bakers will have to impress fellow top-tier cake artist Duff Goldman, who is joined by fellow judges Dan Langan ("Winner Cake All") and Waylynn Lucas ("Cake Wars"). Not an easy panel of judges to impress.
Goldman, who got married in January, is coming off a busy year, and he shows no sign of slowing down in 2020. In April, the Food Network star added yet another new series ("Duff Takes the Cake") to his cake-making and TV empire. And in the past few months alone, there's a good chance you've seen him on TV as a judge, co-host or contestant on a number of other series, including Food Network's "Holiday Baking Championship" and "Kids Baking Championship," which returns with a new season on Monday, Jan. 6.
So while the "Cake-Off: New Year's Eve" contestants will be scrambling on Dec. 29 to create cakes that say "out with the old, in with the new," it appears Goldman has mastered the art of continuity heading into 2020.