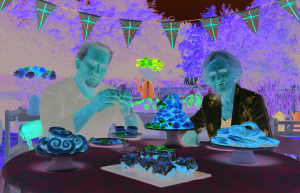 Paul Hollywood and former co-host Mary Berry
When it comes to cherished Christmas cake traditions, we have the French to thank for the Yule log (bûche de Noël), the Germans for Stollen, Italians for panettone and ancient Romans for fruit cake … although not everyone is thankful for that one.
The traditional British Christmas cake is a dense cake made with brandy- or rum-soaked dried fruits (mostly raisins) and covered in icing. It's the kind of Yuletide confection you'd see on "The Great British Baking Show" or its Christmas-themed installments, which are fast becoming a holiday tradition of their own.
Kinder and humbler than a lot of other cake competitions, the third "mini" season of "The Great British Baking Show: Holidays" dropped on Netflix earlier this month, and it's "mini" because there are just two episodes.
If you're new to the British import, this festive offshoot is a great introduction to what's known as "The Great British Bake Off" in the U.K. (first on BBC, now on Channel 4) and "The Great British Baking Show" on PBS and Netflix.
Why the different name? Pillsbury owns the rights to the use of "Bake Off" stateside, so the title of this British import had to be altered for its U.S. run. Adding to the confusion is the fact that we're a little behind in terms of episodes: "The Great British Baking Show: Holidays" consists of the 2019 holiday specials that aired on Christmas Day in the U.K. (try not to look up some spoilers online).
Noel Fielding and Sandi Toksvig are your hosts for the third "Holidays" installment, which features returning judges Paul Hollywood and Prue Leith. It's family-friendly fare, but longtime fans may still miss the warmth and grace of former co-host Mary Berry from seasons past. (You can find Berry's recipe for Christmas cake on the BBC website, bbc.co.uk.)
The latest "Holidays" will feature four returning bakers: Tom Hetherington and Yan Tsou from Season 8, and Terry Hartill and Briony Williams from Season 9. The other episode is a celebrity edition featuring "Derry Girls" cast members Saoirse-Monica Jackson (Erin), Nicola Coughlan (Clare), Jamie-Lee O'Donnell (Michelle), Dylan Llewellyn (James) and Siobhán McSweeney (Sister Michael).
Who among them will be the Christmas Star Baker? Head to Netflix to stream the latest installment of "The Great British Baking Show: Holidays" available now.