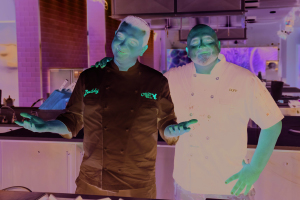 Buddy Valastro and co-star Duff Goldman of "Buddy vs. Duff"
Deck the halls with cake? Why not! Food Network's seasonal lineup of cake competition series has repeatedly shown us that a creatively decorated cake is edible art that's worthy of display.
This week, a new cake-focused competition series joins Food Network's holiday lineup. A four-part limited series, "Buddy vs. Christmas" premieres this Sunday, Nov. 22, and, as you can tell by the title, it features "Cake Boss" himself, Buddy Valastro.
In this series, the Season 2 winner of "Buddy vs. Duff" assembled his baking crew in an attempt to create the most elaborate Christmas-themed cakes. But this time, Duff Goldman isn't the challenger; in each episode, Valastro has to compete against specialized artists that are masters of their non-cake crafts.
That's right, they're not actually bakers. But that doesn't mean anything in a competition in which it's all about esthetics (and when you see these creations, it's hard to imagine anyone would want to cut into them). These competitors include a Broadway set designer, an expert glassblower, an animatronics expert and even a master Lego builder, so that should give you an idea of how elaborate these cake designs will be.
In each episode, the teams will be tasked with creating life-size Christmas displays for high-profile events, and the one that perfectly captures the spirit of the theme and the magic of the holidays will be declared the winner. Expect to see life-size gingerbread houses and snow globes, and even a drivable sleigh cake.
This focus on special effects and over-the-top cake toppers adds an interesting twist to the usual Food Network competition format. There's magic to the creations you'll see on screen, but knowing what happened after filming was completed, the sight of Valastro at work feels a little bittersweet.
"Buddy vs. Christmas" was filmed prior to the Sep. 20 at-home incident that left Valastro with a severe hand injury. The Valastro family was enjoying their in-home bowling alley when a malfunctioning pinsetter pinned the baker's right hand, the metal barb impaling it between his ring and middle fingers. Valastro's sons cut him free and the baker was rushed into emergency surgery. He has since undergone two more surgical procedures to reverse some of the nerve and muscle damage.
It will seemingly be a months-long recovery process for Valastro, and part of that journey will be chronicled in a TLC special airing on Dec. 23. In a statement, TLC's president and general manager, Howard Lee, had this to say about the situation and the planned special: "Buddy is like family to all of us at TLC, so we are thrilled and relieved for him that he is on the road to recovery following his accident. Knowing Buddy's determination and spirit, it's no surprise that he would give it his all in the hopes of returning back to normal. We are proud to document his journey as part of this special."
We're all wishing Valastro a speedy recovery. In the meantime, tune in to "Buddy vs. Christmas" on Sunday, Nov. 22, to see him do what he does best, and what he'll hopefully get back to doing again soon.