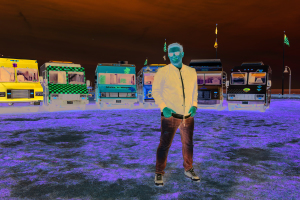 Tyler Florence hosts "The Great Food Truck Race"
Fire up those engines and put the pedal to the metal. Another season of "The Great Food Truck Race" has hit the road on Food Network, and with only one team able to take home the grand prize, the competition this year is going to be fierce.
Chef Tyler Florence returns to host the culinary race, a role that he's held for all 10 seasons. This year, nine teams of aspiring food truck owners are in the running as they make their way along the Atlantic coast's sunny cities, making stops along the way where they face challenges that test their cooking, business acumen and ability to market their brand.
In this week's premiere, all nine teams assemble in beautiful Myrtle Beach, South Carolina. Each has their own food truck for the competition, with its own style of food, branding and way of cooking. What ties them all together, though, is their desire to sell mouth-watering food to eager customers. In Myrtle Beach, Florence challenges the food truck crews to serve up scrummy boardwalk bites and succulent crab dishes to hungry locals, and the team that's the least successful is asked to leave the caravan.
Next week, the racers are off to Hilton Head, South Carolina, where they face a boiled peanut challenge. With future stops in Florida at Daytona Beach, Tampa, Fort Myers, Fort Lauderdale and Miami, the competitors are destined to get plenty of sun as their numbers get whittled down and they get closer and closer to the $50,000 grand prize.
The name "Food Truck Race" is a bit of a misnomer -- this is a cooking competition, after all, and the food trucks don't actually race each other from city to city. Instead, it's more of a race for sales, with the food truck teams being given unique challenges at every stop that speak to the local food scene, and that encourage the competitors to get creative with both their food and their marketing.
Buckle up those seatbelts and make sure you have a napkin handy -- "The Great Food Truck Race" heads to the East Coast for its 10th season starting Sunday, June 9, on Food Network.