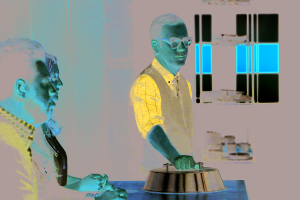 Ted Allen hosts "Chopped"
It's a "Brady Bunch Bash" on "Chopped" this week. And if you've watched a few episodes (or every episode), the sight of the title alone will make you want to sing "The Brady Bunch" theme song. Loudly. From start to finish.
That's probably the kind of fan reaction Barry Williams, Eve Plumb and Mike Lookinland (a.k.a. Greg, Jan and Bobby Brady) have had to put up with all these years, given the immense popularity of "The Brady Bunch."
The syndicated classic first hit the airwaves on Sept. 26, 1969, which means the series is turning 50 this month. To mark the occasion, Food Network has invited Williams, Plumb and Lookinland to be the guest judges of honor on this week's episode of "Chopped," airing Tuesday, Sept. 3.
The format is similar to last week's "Brady"-themed episode, which featured Christopher Knight, Maureen McCormick and Susan Olsen (Peter, Marcia and Cindy Brady). The three "siblings" on this week's episode have plenty of stories to tell from their "Brady Bunch" days. And that should be a special treat for three lucky fans -- except they're also this week's competitors, so they have to make sure to stay focused on the competition.
The first basket that host Ted Allen gives the contestants is filled with Hawaiian ingredients in honor of the Brady family's vacation in Season 4. The entree basket includes a creepy-crawly (Harvey Klinger would have liked that), while the dessert round involves popcorn and a tropical drink.
Admittedly, I half expected to see a quirky twist on Alice and Carol's competition to make the best strawberry preserves. But this is "Chopped," after all.
A few other Food Network series have also produced their own "Brady"-inspired episodes, including "The Pioneer Woman," "Worst Cooks In America" and "The Kitchen." But why is Food Network celebrating the 50th anniversary of "The Brady Bunch"? It's part of a larger broadcasting event taking place across the Discovery family of networks, and it's all tied to the purchase and restoration of the real-life "Brady Bunch" house, as documented in HGTV's "A Very Brady Renovation." (Fun fact: Lance Bass of NSYNC attempted to buy the house but was outbid by HGTV.)
You'll have to wait another week for the HGTV special. Until then, tune in to this week's "Chopped" to get your "Brady" fix.