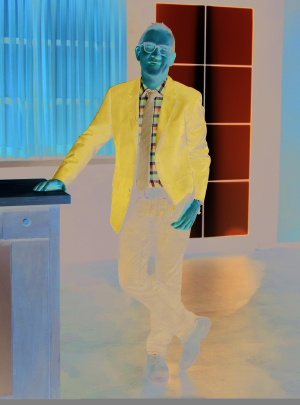 Ted Allen hosts "Chopped"
Wow, has it really been a year already? It feels like it was only yesterday that the underdog Philadelphia Eagles defeated the New England Patriots in the Super Bowl, and with this year's big game just around the corner, football fans across the country are busy planning their game-day menus.
Of course, the "Chopped" kitchen is never one to let an opportunity to showcase some culinary creativity pass by, and the year's biggest sporting event is no exception. In this week's episode, airing Tuesday, Jan. 29, on Food Network, host Ted Allen ("Queer Eye for the Straight Guy") asks four competitive chefs to use their baskets of mystery ingredients to prepare game-day feasts that will hopefully impress as much as the Eagles did last year.
As usual, the ingredient baskets contain some devious culinary twists that can throw even the best chefs off their game. In the appetizer round, the chefs find something that looks like nachos, but it turns out to be something far more whimsical. Then, once the judging is complete and the worst-performing chef is benched, they crack open the entrée baskets to find a drumstick surprise. Finally, the final two chefs go head to head in a dessert round in which a hybrid beverage meets a fusion snack.
As usual, the irreplaceable Allen serves as host, bringing his trademark blend of gravitas and panache to the competition. Joining him at the judges table are three familiar faces who are all "Chopped" regulars. Chefs Scott Conant, Amanda Freitag and Geoffrey Zakarian may be at home in the "Chopped" kitchen, but that doesn't mean that they take it easy on the contestants -- after all, this is the big league, and if the competitors can't handle the challenge, then the chopping block awaits.
Football and cooking may come from completely different worlds, but at the core they aren't so different. Almost anyone can cook, just like almost anyone can throw a ball, but it takes years of training to truly become a legend. Professional chefs face off in a high-stakes game in this week's episode of "Chopped," airing Tuesday, Jan. 29, on Food Network.