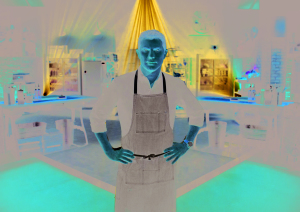 Bobby Flay hosts "Beat Bobby Flay"
Poor Bobby Flay. Everyone is looking to knock him down. For 24 seasons now, competitors have lined up to take on the Iron Chef at his own game in "Beat Bobby Flay" on Food Network.
Flay has won many but also lost quite a few -- his won-lost record was 178 wins and 101 losses just a few weeks ago -– and you'd think there wouldn't be many celebrity friends and chefs left to challenge the New York chef.
Enter Martha Stewart.
On a new episode of "Beat Bobby Flay" airing this Thursday (Feb. 20), the lifestyle maven makes an appearance along with guest chef Richard Blais, winner of Bravo's "Top Chef All-Stars." Chefs Katherine Fuchs and Michael Merida will join them as this week's challengers, and whoever makes it to the second round will surely pull out all the stops in an attempt to impress the guest panel with a dish that beats Bobby Flay's.
This isn't Stewart's first time on "Beat Bobby Flay." She also appeared on the 2016 Thanksgiving episode in which Flay got handed one of his 101 losses. And Flay has been a guest in Stewart's kitchen before, too, so there is presumably a lot of respect between these two big food personalities, regardless of any banter featured on this week's episode.
Stewart, 78, may not be as omnipresent as she was in the 1990s and early 2000s, and her housewares brand, Martha Stewart Living Omnimedia, was sold last year for just half of its 2015 purchase price. But the doyenne of domesticity still makes her presence felt with regular TV appearances and with her various business ventures. Mind you, she's also generated a few headlines with her social media posts, like when she called out "Queer Eye's" Antoni Porowski for poor netiquette when he didn't tag her in the photos he'd taken on her property (consider yourself warned).
But let's get back to TV. In 2018, Food Network announced that Stewart had signed on as a recurring judge on "Chopped," and her most recent appearances included two episodes last month. Along with Flay, Stewart's name was also prominently highlighted last fall when Discovery launched its "hyper-interactive" Food Network Kitchen app. So there is a continuing association between Stewart and Food Network's parent company, Discovery.
And while her unexpected friendship with Snoop Dogg has raised more than a few bemused eyebrows since the rapper's appearance on a 2008 episode of "Martha," it has also led to a TV partnership that's still going strong. The third season of VH1's "Martha and Snoop's Potluck Dinner Party" wrapped last month, and while previous seasons featured "celebrity guests and lots of funny talk, silly games and actual recipes" (per Stewart in an interview with "Architectural Digest"), the latest season featured a competition format more akin to Food Network shows.
Maybe it's a hint that we'll see Stewart lending her expertise to more competition shows in the future. But for now, tune in to Thursday's episode of "Beat Bobby Flay" to see Stewart et al playfully rooting for Flay to fail.