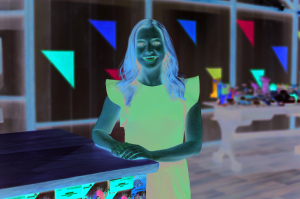 Alyson Hannigan hosts "Girl Scout Cookie Championship"
Are you craving Thin Mints? Or maybe a Toffee-tastic?
Hold on tight to that "no sweets" New Year's resolution because Girl Scout cookie season starts soon, if it isn't already underway in your community (the season varies by location). And be sure to mark your calendars for the premiere of Food Network's newest competition show, "Girl Scout Cookie Championship."
The brand new series launches Monday, Feb. 3, and it might be the ultimate tribute to your favorite seasonal treat leading up to National Girl Scout Cookie Weekend (Feb. 28).
The four-episode series challenges professional bakers to transform Girl Scout cookies into over-the-top creations that will wow anyone with a sweet tooth and an eye for edible art.
A Girl Scout alumna, "How I Met Your Mother" star Alyson Hannigan serves as the upbeat host of this competition. Nacho Aguirre and Katie Lee are two of the three judges, and they'll be joined by "a rotating third panel member, including Carla Hall," per Food Network (Lee and Hall are also former Girl Scouts).
The series format doesn't deviate from the tried-and-true Food Network formula that has worked so well for most of its seasonal competitions, such as "Halloween Baking Challenge," which also featured Lee and Hall as judges. But we all know the cookies are the true stars here. And it'll take a lot of them to create some of the mmm-masterpieces that will be featured on the show.
The Girl Scout Cookie Program is the largest female-centered, female-led entrepreneurial program in the world. It's been going strong since the first cookie sale in 1917 and became a national event in 1936.
According to Fortune, about 200 million boxes of cookies are sold annually from February to April, and the estimated profit of $800 million provides critical funding for financing local troop activities nationwide. So when you're feeling guilty about eating half a box of Girl Scout cookies without sharing (been there, done that, will do again), there's the consolation that your sweet tooth is at least doing some good at a community level (your dentist might not see it the same way).
Ever notice some cookies go by different names? It depends on which of the two licensed bakeries provides the cookies, and that's why the same cookie might go by the name Caramel deLites or Samoas; Peanut Butter Patties or Tagalongs, Do-si-dos or Peanut Butter Sandwiches; and Shortbread or Trefoils. And that's something to watch for when tuning in to "Girl Scout Cookie Championship," which begins Feb. 3 on Food Network.