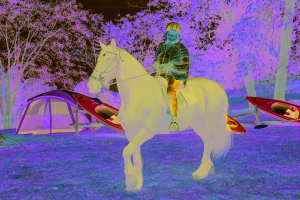 Martha Stewart hosts "Bakeaway Camp with Martha Stewart"
Do you love being outdoors but still wish you could spend that time baking? Sure, it's not something you hear very often (or ever). But trust Martha Stewart to find a way to make it happen.
Welcome to "Bakeaway Camp with Martha Stewart," premiering Monday, May 11, on Food Network. The casting call described it as "part exclusive culinary retreat, part baking boot camp and part summer camp-inspired competition with a cash prize." And it is sounding like a breath of fresh air right now, especially since the Food Network has had to lean heavily on familiar faces and encore episodes in the last while.
Each week on "Bakeaway Camp," the amateur bakers or "campers" will go head-to-head in two different rounds that will test their skills. The winner of the first round, the Counselor's Challenge, gets their very own, one-on-one mentoring session with Stewart in her home kitchen. And the camper who fails to impress after two rounds? They'll be eliminated from the competition and forced to perfectly fold their tent back into its bag (OK, maybe not that last part).
Jesse Palmer, who has helmed the last three seasons of "Holiday Baking Championship," will be helping Stewart with the hosting duties for this one, too. As for the judging portions of the show, Carla Hall and Dan Langan are the "camp counselors" who will be watching and evaluating performances.
In the premiere, our six campers will be challenged to put their own spin on s'mores before stepping into the outdoor kitchen for the first Camp Director's Challenge, which involves layered desserts. There are already many variables in baking, but these campers will also be dealing with some not-so-great outdoor elements, such as swarms of bees and a sudden downpour. And let's not forget summer heat and humidity, which locks in dry ingredients, requires extra baking time and wreaks havoc on crisp textures. Who wants overly soft gingersnaps and sticky meringues? Not Martha.
At the end of it all, the winning camper will head home to enjoy their grand prize: a dream kitchen stocked with appliances valued at $25,000.
But let's not get ahead of ourselves, the finale is still weeks away. So tune in to "Bakeaway Camp with Martha Stewart" this Monday and get to know the six bakers as they settle in for their first day of (boot)camp.