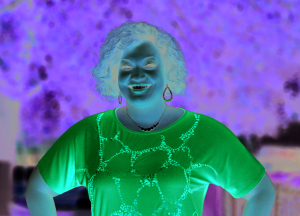 Sunny Anderson in "All-Star Best Thing I Ever Ate"
Name the single, best, tastiest thing you have ever eaten.
Can't think of just one? That's OK, tastes change over the years. Your mood in that moment can also affect your taste perception, which explains why you could eat the same meal twice and have a completely different experience.
But that's the kind of question that reveals a lot about your flavor palate and preferences, not to mention your dining/travel experiences. (Mine may be a Braud & Co. cinnamon bun in Reykjavik, Iceland -- specifically, the first of five that I gobbled up in a single afternoon because they were just that good.)
It's also the idea behind "Best Thing I Ever Ate," which started out on the Food Network as a one-time special that turned into a series in June 2009. In 2018, the series moved to The Cooking Channel, where it continues to serve as the ultimate guide to what to eat (and where) in America.
And on Monday, July 20, Food Network is rolling out an all-new, all-star edition that will whet your appetite for more of this country's best bites. Each of the eight episodes of "All-Star Best Thing I Ever Ate" is a one-hour food travelogue in the company of Food Network's biggest stars, from Sunny Anderson to Alton Brown. They'll dish about their favorite foods and offer a few of their own personal recipes, too.
In Monday's episode, Martha Stewart talks about flame-grilled wagyu while Guy Fieri points viewers in the direction of his favorite burrito. Bobby Flay walks us through the steps for preparing the perfect rib eye, Alex Guarnaschelli shares her meat lasagna recipe and Anne Burrell cooks a crown of pork. Look for other episodes to feature Molly Yeh, who will tell you where to find the best fried pickles in Bismarck, North Dakota, while Rachael Ray knows where to go for the best breakfast sandwich in Pittsburgh.
It's always interesting to see what food stars and pro chefs pick as their favorite off-screen eats. After all, they do spend a lot of their time talking about and working with food, so surely their personal picks must be solid. And those first-hand recommendations are the secret to the show's enduring success.
Given the pandemic situation, you might have to wait to sample some of the foods shown in the July 20 episode. But look for a few of the recipes to pop up on FoodNetwork.com/BestThingIEverAte, if you want to create new food experiences at home.