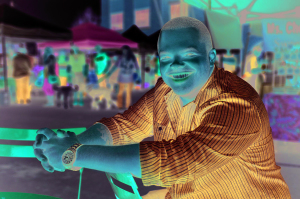 Roger Mooking hosts "Man Fire Food"
Smoke or grill 'em if you got 'em because May is National Barbecue Month (and the month ain't over yet).
Not that you're limited to just this month, mind you. But if there's one American culinary tradition that deserves to be celebrated for an entire month, it's gotta be barbecue. There's something magical, even primal, about the combination of food, smoke and fire, whether you're quick grilling or cooking low and slow.
Carolina, Texas, Memphis or Kansas City -- all the great traditions of the Barbecue Belt have been previously profiled on shows like "BBQ Pitmasters" or the various Bobby Flay series. But "Man Fire Food" takes it a step further by ignoring 'cue conventions; instead, it celebrates our capacity to harness fire in so many different ways, from intimate campfires to smokers built large enough to feed a crowd.
Season 9 of "Man Fire Food" premiered last week on the Cooking Channel. And in a new episode airing Wednesday, May 27, you'll find host Roger Mooking cruising the Florida coastline to find some fiery cookouts.
Mooking's first stop is at a Peruvian eatery in St. Augustine to check out pachamanca, an Incan-style pit roast. The technique comes from the Andes region and traditionally involves cooking spiced meats and vegetables underground, using hot stones and grasses to impart a rich, earthy flavor. Watching the segment, you can almost smell the aroma of heated plantain leaves, especially when they're wrapped around fish fillets and grilled over an open fire.
The next stop is in Fort Lauderdale, where the "Man Fire Food" host visits an old-school, open-pit barbecue restaurant that's been around since 1953. Once there, the owner and pitmaster will walk Mooking through all the steps necessary to prepare their specialty, the Bar-B-Q Chopped Pork Sandwich, which is doused in a North Georgia-style mustard barbecue sauce.
Born in Trinidad and raised in Canada, Mooking has been at the helm of "Man Fire Food" since the show premiered in 2012. Before that, Mooking was host of "Unique Eats" and "Everyday Exotic" before joining Aarón Sanchez for two seasons of "Heat Seekers" on Food Network.
Mooking has since kept busy with guest appearances on everything from morning talk shows to "Iron Chef America" while lending his name (and star power) to the restaurant Twist By Roger Mooking, located in the Toronto Pearson International Airport. But it's clear from his nine seasons on "Man Fire Food" that Mooking still shares the same love of barbecue and grilling that most of us do -- he just gets to travel farther to sample and enjoy it.