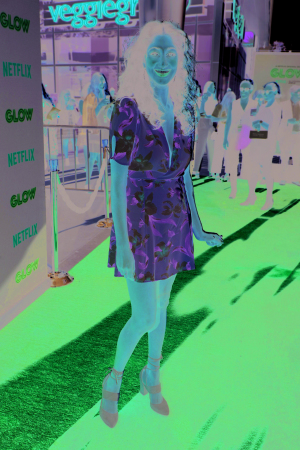 Sunita Mani cast in "Scenes From a Marriage"
Wrestling with love: You may know actress-dancer-writer Sunita Mani from her role as Arthie "Beirut the Mad Bomber" Premkumar in the now-canceled Netflix dramedy "GLOW," or as Trenton in "Mr. Robot." You might have even recognized Mani from her drywall-busting performance in the music video for DJ Snake and Lil Jon's "Turn Down for What."
In spite of "GLOW's" cancellation, Mani has had a busy year. The comedic actress is fresh off leading roles in two recently released films, "Save Yourselves!" and Amazon's "Evil Eye," and she may be gearing up for another busy year in 2021, since she's already lined up her next TV gig: a role in HBO's "Scenes From a Marriage."
If the title sounds familiar, it's because the limited series is an adaptation of Ingmar Bergman's 1974 Swedish miniseries-turned-film. Written and directed by Hagai Levi ("The Affair"), the HBO project is a modern take on the filmmaker's brutally honest depiction of a marriage breaking down — a depiction that was popularly blamed for rising divorce rates and partly based on Bergman's own relationship with the film's star, Liv Ullman.
Oscar Isaac ("Star Wars: The Rise of Skywalker," 2019) is the male lead for this 2020s version. He will star opposite his long-time friend, Jessica Chastain ("A Most Violent Year," 2014), who stepped in after Michelle Williams ("Venom," 2018) exited the role due to a scheduling conflict. The two leads (and former Julliard classmates) will also serve as executive producers.
As for Mani, you'll spot the "Mr. Robot" actress in a supporting role when "Scenes From a Marriage" airs sometime in 2021, according to IMDb.
Hahn 'Next Door': More casting news, this time courtesy of Apple TV : "Mrs. Fletcher" star Kathryn Hahn will play a lead role in Apple's new limited series, "The Shrink Next Door," which also stars Will Ferrell ("Downhill," 2020) and Paul Rudd ("Living With Yourself").
"The Shrink Next Door" is inspired by true events and based on the hit podcast of the same name. It's a dark comedy that tells the story of a strange relationship between a psychiatrist (played by Rudd) and his long-time patient, Martin "Marty" Markowitz (Ferrell). If you're getting light-hearted "What About Bob?" (1991) vibes from that description, think again: Rudd's charming psychiatrist-to-the-stars is one who eventually inserts himself into his patient's life, to the point of moving into his Hamptons home and persuading Marty to name him president of the family business. Hahn will play the role of Marty's younger sister.
The eight-episode series hails from "The Big Sick" (2017) director Michael Showalter, with writer Georgia Pritchett ("Succession") penning the script.
It also marks a reunion of sorts for the three leads. Hahn, who will next appear in the Disney series "WandaVision," made a big impression as Ferrell's sister-in-law in the 2008 film, "Step Brothers." She also appeared as a political operative alongside Rudd in a multi-episode arc on NBC's "Parks and Recreation." As for executive producers Rudd and Ferrell, the two comedians first teamed up in the 2004 film "Anchorman: The Legend of Ron Burgundy" and reprised their roles in the 2008 sequel.
Fox's 'Demi-God': Is there room in the Fox primetime line-up for another animated series? The network certainly thinks so.
According to Deadline, a new hybrid animated/single-cam project from "Bella and the Bulldogs" writer-executive producer Katie Greenway is currently in development at Fox Entertainment.
"Demi-God" is centered on a powerless fast-food employee who likes to indulge in a bit of escapism. She escapes the drudgery of her everyday life by slipping into the fantasy world she created in her favorite video game. But the trouble begins when the virtual townspeople are granted sentience in the game's latest upgrade and, suddenly, they've all turned against her.
In addition to her work on Nickelodeon's "Bella and the Bulldogs," Greenway penned the script for the multi-camera comedy "Townies," which was in development at CBS back in 2018. While the comedy about twentysomethings wasn't picked up, one would assume it was a learning experience for Greenway, who was also attached to the series as co-executive producer.
"Demi-God" is the latest animation project at Fox to land a script commitment, but it's not the only one. Fox Entertainment is also developing a semi-autobiographical animated comedy from Jermaine Fowler ("Superior Donuts"), while its "Ocean Village" scored a backup script commitment plus animated presentation.
If these projects move beyond the development stage, they'll be joining an already stellar animated line-up that includes long-running series "Family Guy" and "Bob's Burgers" (both were renewed in September for two more seasons), as well as "The Simpsons," "Bless The Harts," "Duncanville" and three more new series: "The Great North," "Housebroken" and an untitled project from "Community" showrunner Dan Harmon.