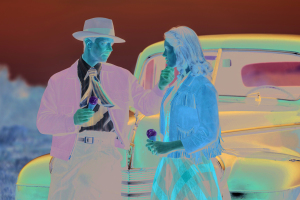 Jason Behr and Kayla Ewell as seen in "Roswell, New Mexico"
When the Pentagon officially released videos showing "unidentified aerial phenomena" in 2020, it rekindled the debate about extraterrestrial life. As the conversation about aliens rages on, a sci-fi drama series that has captured the imaginations of millions of fans with its alien story is returning for Season 3.
Aliens and their human allies struggle to keep their existence a secret in "Roswell, New Mexico," which kicks off its highly anticipated third season on Monday, July 26, on CW.
The story centers on biologist Liz Ortecho (Jeanine Mason, "So You Think You Can Dance"), her former crush Max (Nathan Parsons, "General Hospital"), an alien, and troubled alien drifter Michael (Michael Vlamis, "New Girl"). Max's alien sister, Isobel (Lily Cowles, "BrainDead"), and Michael's love interest, a human named Alex (Tyler Blackburn, "Pretty Little Liars"), have also played heavily into the plot lines.
Set in the city famous for being the site of an alleged UFO crash in 1947, the show is based on the "Roswell High" book series by Melinda Metz. This is not the first time Metz's novels have been adapted for television. "Roswell" aired on The WB and UPN from 1999 to 2002 but failed to strike a chord with audiences.
The new version seems to be faring better than the original. The show's creator, Carina Adly MacKenzie ("The Originals"), "aged up" the characters when she developed the current series, thus adding another layer of relevance by exploring issues like immigration and sexuality.
MacKenzie, who also served as an executive producer and co-showrunner for "Roswell, New Mexico," announced via Twitter that she would be leaving the show before Season 3's debut due to "fundamental differences." Despite her imminent departure, she had nothing but praise for the series.
"I am so proud of what we built over the last two years, and I believe in the heart and soul of the show: asking tough questions, striving to make the world better, amplifying marginalized voices and fighting the good fight," MacKenzie wrote.
It appears that legacy is poised to continue in Season 3.
Although the main plot points of the new season have not been confirmed, before she left the show, MacKenzie talked to the website Digital Spy about Isobel's next love interest being a woman. What's more, reports have indicated that the third season would also touch on racism within the police department — another hot topic.
While critical reaction to "Roswell, New Mexico" has been mixed, the CW show has done well enough in the ratings to continue for not only this season but also another. Long before its scheduled premiere date, CW decided to renew the series for a fourth season. The announcement, which was made back in February, is a pretty clear indication of the network's faith in the series.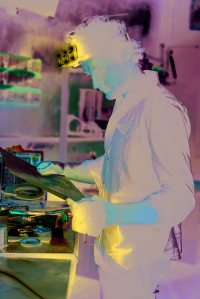 Michael Vlamis stars in "Roswell, New Mexico"
One reason for the show's popularity is likely the strength of its cast, many of whom will be returning for Season 3.
Mason portrays Liz, a scientist and daughter of undocumented immigrants who returned to her hometown of Roswell when her research funding fell through. The actress first rose to fame as a dancer on the Fox reality TV dance competition series "So You Think You Can Dance," which she won in 2009. She landed a recurring role as Dr. Sam Bello in "Grey's Anatomy" and has appeared in several other TV shows, including "Bunheads" and "NCIS: Los Angeles."
When Liz arrived back in Roswell, she reconnected with her high school crush, Max, unaware that he's really an alien with otherworldly powers. Australian-born American actor Parsons got his big break in daytime TV playing Ethan Lovett on "General Hospital" from 2009 to 2012. "Roswell, New Mexico" is not his first foray into the sci-fi/fantasy genres, though. He played a vampire in the seventh season of HBO's "True Blood" and a werewolf in CW's "The Originals."
Screenwriter and actor Vlamis appeared in a number of short films before landing the role of Michael in "Roswell, New Mexico." He made his television debut on Fox's "New Girl" and is known for co-writing the screenplay for a biopic about late rapper Mac Miller.
Even though "Malex" (the relationship between Max and Alex) may be over, Blackburn is set to return in Season 3. They are best known for their role as Caleb in Freeform's "Pretty Little Liars," a role they reprised in its spinoff "Ravenswood."
Cowles, meanwhile, appeared in four episodes of the political satire "BrainDead" before joining "Roswell, New Mexico" as Max's sister, Isobel.
Amber Midthunder plays Liz's previously deceased sister, Rosa, whom Max resurrected in Season 1. A member of the Fort Peck Sioux Tribe, Midthunder is known for her work on "Legion," "Longmire" and "Banshee."
Fans of CW's popular "The Vampire Diaries" may recognize Michael Trevino as Tyler Lockwood from that series. In "Roswell, New Mexico," he stars as Kyle Valenti, a doctor and son of the town sheriff.
Heather Hemmens will also be back as Maria DeLuca, Liz and Rosa's best friend. She's a CW alum as well, having starred in "Hellcats" from 2010 to 2011. Hemmens also appears opposite Jamie Foxx ("Ray," 2004) in the Netflix series "Dad Stop Embarrassing Me!"
Given what appears to be a potential romance, it seems Christian Antidormi may return as Forrest in Season 3 as well. The Australian actor has appeared in popular Aussie TV shows such as "Home and Away" and "As the Bell Rings," as well as the American series "Spartacus: War of the Damned."
This season, rumor has it that the cast will explore the history of the alien race and their home planet as Parsons does double duty as both Max and the mysterious new character, Mr. Jones.
Don't miss the season premiere of "Roswell, New Mexico," on Monday, July 26, on CW.