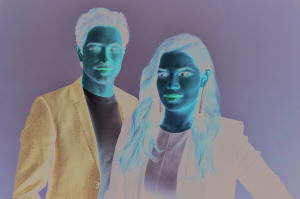 Ben Feldman and America Ferrera star in "Superstore"
In today's ever-changing, hustle-and-bustle world, we are constantly trying to simplify things and live a more convenient life. We are always looking for a shortcut, an edge or a trick to give us more time for ourselves. With this desire to simplify, we have seen an increase in one-stop shops in the form of big-box stores.
Nowadays it's nearly impossible to escape these gigantic structures. While shopping for groceries, the latest high-tech gadgets or diapers, we rarely stop to think of the men and women who make these colossal buildings run so smoothly. On Thursday, March 14, punch in and follow the diverse and hilarious employees of a store called Cloud 9 in a new episode of "Superstore" on NBC.
Set in a fictional big-box store in St. Louis, Missouri, "Superstore" follows the day-to-day activities of its diverse blue-collar employees. Led by the hard-working veteran Amy Dubanowski (America Ferrera, "Ugly Betty"), the staff does its best to tackle the everyday grind of working in a megastore.
Over the course of her decade-and-change tenure at the hypermarket, Amy has risen in the ranks. She started as an associate, moved up to floor supervisor, then assistant manager, and eventually became the store manager (although only for a very brief period). She is dedicated to her job, is a constant but loving meddler, and is ultimately the glue that holds the store and its staff together.
Like many workplace comedies before and since, "Superstore" gets a good amount of laughs from ridiculous situations and how the characters deal with them. Since the show's debut in 2015, the single-camera sitcom has dealt with riots caused by great sales, terrible training sessions, overeager bargain hunters and the constant flow of clueless seasonal workers and chipper rookies.
The Cloud 9 staff includes Jonah (Ben Feldman, "Drop Dead Diva"), a bright-eyed dreamer and Amy's love interest; Dina (Lauren Ash, "Another Period"), the no-nonsense assistant manager who isn't afraid to get her hands dirty; Cheyenne (Nichole Bloom, "Shameless"), the sweet, dimwitted teenager; and the always sarcastic Garrett (Colton Dunn, "Blockers," 2018).
Under the watchful eyes of Amy and the sheltered, yet always positive (and often perplexed) store manager, Glenn (Mark McKinney, "Man Seeking Woman"), they have become a tight-knit family. The issues they face together range from the mundane but relatable problems associated with working retail to bigger, more complex concerns that mirror those experienced by employees of real-world big-box stores, such as the lack of maternity leave, health insurance and paid overtime.
"Superstore" has never shied away from dealing with contemporary issues and politics. In a 2018 article, Vulture went so far as to refer to the series "as television's most consistently and quietly revolutionary sitcoms." While the issues have always been front and center, the series has avoided an in-your-face approach to them and has opted for a more low-key delivery.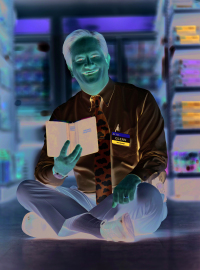 Mark McKinney as seen in "Superstore"
Through a comedic lens, the store's staff has tackled heavy but important topics such as consent, class, privilege, diversity and discrimination. For instance, Mateo (Nico Santos, "Crazy Rich Asians," 2018), the ambitious associate hired in the premiere episode, recently discovered that he is undocumented. The fourth season continues this storyline and addresses other topical matters without ever getting on a soapbox.
After a shocking Season 3 finale last spring, it was revealed in this season's premiere episode that Jonah and Amy are much more serious then we initially suspected. After years of flirtation, it was only a matter of time before they would get together, and the current season explores this burgeoning romance.
In an interview with TheWrap, "Superstore" creator Justin Spitzer discussed how he and the show's writers have run out of reasons for the leads not to be together, explaining that it would have felt false to keep the pair apart any longer after removing all of the obstacles in their way.
For the past three seasons, the workplace ensemble comedy has anchored NBC's attempt to revive its once-unstoppable Thursday night comedy lineup. For years, the peacock network dominated the night with mammoth hits such as "Cheers," "Seinfeld," "Friends" and "Will & Grace." Unfortunately for the network, nothing lasts forever in Hollywood, and "Must See TV" (and its successor, "Comedy Night Done Right") was surpassed by the competition. Times have changed again, however, and a new crop of comedies could take back the night.
The fourth season has been a busy one for our favorite Cloud 9 employees. Take a trip to the "Superstore" and find out if Jeff (Michael Bunin, "The Last Tycoon") will ever win Mateo back, and what will come of Amy and Jonah's new relationship in a hilarious new episode airing Thursday, March 14, on NBC.