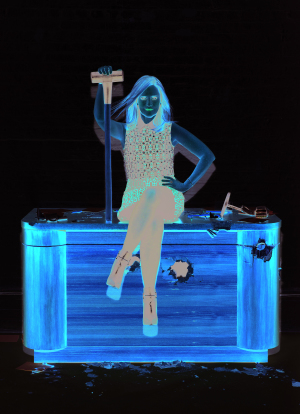 Samantha Bee stars in "Full Frontal With Samantha Bee"
Buzzing over airwaves largely dominated by men, Samantha Bee ("Sisters," 2015) does not mince words when it comes to her opinions or feisty retorts. The Bee is back again for more biting satire on Wednesday, July 29, when a new episode of "Full Frontal With Samantha Bee" airs on TBS.
Bee, a Canadian-American comedian, TV host, writer, producer and actor, spent over a decade on the Comedy Central juggernaut "The Daily Show" before transitioning into her own satirical news and current affairs TV show in 2016. But Bee is not one to sit behind a desk; she's known for her field reports, which are loaded with deadpan jokes.
And it's not just a hit with comedy fans -- "Full Frontal" has been blowing away critics since Season 1, gaining a 100% approval rating on Rotten Tomatoes and a label as the show that filled the void left when Jon Stewart retired from "The Daily Show." Her segment "Trump Conspiracy Theory" finished No. 1 on Vulture's "10 Most Important Late-Night TV Moments in 2016." Wired's Virginia Heffernan ("CNN") even praised the show for its unmatched mercilessness as a voice for feminists.
The Emmys gave "Full Frontal" an Outstanding Writing Award for its "Not the White House Correspondents' Dinner" specials, plus a total of 17 nominations by the end of the show's fourth season. The show, which has also covered international stories and aired from China, Germany, Scotland, Jordan, Iraq and Mexico, has received a total of 33 award nominations from 2016 to the present.
Bee has been sharing a studio with fellow "The Daily Show" alumnus John Oliver, who now hosts HBO's "Last Week Tonight," and like many other television shows, "Full Frontal" was zapped into a hiatus when the COVID-19 pandemic hit. Fortunately for us, Bee bounced back quickly and returned by the end of March, filming from the middle of the woods just outside Bee's home. Her producer husband and lockdown roomie, Jason Jones ("The Detour," 2016), has acted as both cameraman and makeup artist to create these special episodes that Bee dubbed "Little Show in the Big Woods."
Bee has shared hilarious tips like how to survive quarantine life by building fires, chopping firewood and always remembering to wash your "hams" -- not a typo, she actually washes a ham with a bucket in the woods.
While "Full Frontal" still looks spotless when it's filmed from a yard, executive producer Alison Camillo has shared that every day, tiny but time-consuming snags have to be unspooled as everyone tries to go to work while holed up in their houses. But it's game-on for everyone, and no one is about to backpedal on the show's success. They've even used animations to squeeze as much normalcy into the show as possible.
Samantha Bee hosts "Full Frontal With Samantha Bee"
Then again, conditions are far from ideal. In April, Bee revealed that they'd experienced a delay in filming because someone was cutting down a tree and chopping it up nearby. Plus, the series is running on far less manpower than usual, which is bound to create challenges.
The Bee crew is normally composed of up to 70 people. This has been cut down to five thanks to the pandemic (not including Jones, who films her from a smartphone, and their kids, who watch the equipment). Meanwhile, the razor-sharp host also does her own styling (hair, makeup and wardrobe), and she's taken to uploading the footage to her staff, too, while keeping the kids off the internet so she can make the most of the available bandwidth.
These days, the team has totally mastered backyard filming and has dutifully tackled and overcome every challenge they've come up against. Ever in the moment, Bee and Jones have even developed a plan that they can implement if a storm disrupts filming. The series is all about timeliness, and taping in advance would take away from the impact the series has.
As odd as filming a late-night TV show at home may seem, the couple have grown extremely comfortable with their new normal. They were both correspondents on "The Daily Show" and have even co-starred in several movies. They also found success with "Detour," a scripted series that aired on TBS in 2015. It is probably safe to say that "Full Frontal's" roaring success comes down to Bee and Jones' exceptional partnership.
"Full Frontal" merchandise proceeds partly go to a number of charitable organizations, such as the Karam Foundation, Planned Parenthood and Hispanic Federation. The show also regularly supports other groups and causes, which have included the 2017 Women's March, New Brunswick Today, Affordable Care Act, #MeToo and the NAACP.
Tune in on Wednesday, July 29, when a new episode of "Full Frontal With Samantha Bee" airs on TBS.