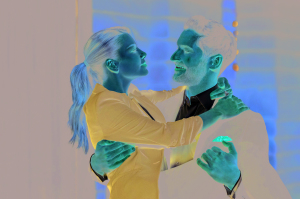 Lauren German and Tom Ellis as seen in Season 6 of "Lucifer"
As the TV Devil himself might like to know, "What is your deepest desire?" If the answer is more "Lucifer" on Netflix, then consider your wish is granted ... though probably not the way you imagined.
With the final season of "Lucifer" upon us, the conclusion to one of the most thought-provoking and exciting cult series to hit television in the past decade is a sad one. And this departure is for real — there's no more resurrecting it.
After Fox canceled the show three seasons in, audiences were left with major cliffhangers. A social media campaign to bring the show back (#SaveLucifer) succeeded, and streaming pioneer Netflix rebooted the show for two shorter seasons (the fourth season was aptly named "Save Lucifer"). The fan favorite, renewed for a sixth and final season in June 2020, is available on Netflix beginning Friday, Sept. 10.
Lucifer, played by Welsh actor Tom Ellis ("Isn't It Romantic," 2019) is based on the character from Neil Gaiman's graphic novel "Sandman." Critics have praised Ellis's performance since the pilot but felt the crime procedural format may have prevented the character from growing. Regardless of how people feel about the show's setup, crime-fighting is how fans came to love dynamic duo Lucifer and Det. Chloe Decker (Lauren German, "Dark Country," 2009).
The essential catalyst for the show, the procedural aspect perfectly highlights the Devil's nonchalant attitude towards his otherworldly duties and partners' frustration. One of those frustrated individuals includes Lucifer's ex-demon confidant, Maze (Lesley-Ann Brandt, "Heartlock," 2018). (And for those not yet caught up on the saga, many spoilers follow.)
From the beginning of Season 1, Maze has always disapproved of Lucifer's conduct, eventually breaking away from Lucifer to become a bounty hunter and entering into a relationship with Eve (yes, that Eve), played by Inbar Lavi ("House of Dust," 2013). Then, at the end of the first half of Season 5, she comes back with a vengeance to face off against Lucifer and Chloe with Lucifer's twin brother, Michael (also played by Ellis).
Already sore that Lucifer had returned to Hell without her in Season 4, Maze's disappointment and anger were amplified when she discovers Lucifer played an integral role in her abandonment as a child. Maze's mother, Lilith, exchanged her immortality in Hell to live on Earth, left her children behind and asked Lucifer to keep it a secret.
Effectively abandoned again — this time on Earth by Lucifer — Maze has also dealt with the emotional turmoil of Eve leaving her at the end of Season 4; a relationship they rekindled in the second half of the fifth season. The Season 6 trailer shows that they are still together, begging the question as to how the two bounty hunters will navigate an impending apocalypse together and if Maze returns to Lucifer's side.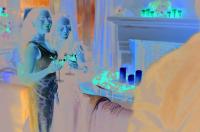 Inbar Lavi and Lesley-Ann Brandt in a scene from Season 6 of "Lucifer"
In Season 5, God (Dennis Haysbert, "The Unit"), who comes down to Earth to repair his relationship with his sons, Lucifer and Amenadiel (D.B. Woodside, "The Man in 3B," 2015), announces his retirement. Now, the throne is open and Hell, quite literally, breaks loose. Michael and Lucifer challenge each other for the throne and Michael kills Chloe. Lucifer chooses to die to rescue Chloe from Heaven, and both are resurrected. Phew!
With Lucifer back, the face of God looks a bit different (and he has a fancy white jacket). But is the jacket all that's changed? The trailer shows Lucifer, as God, interacting with police in his usual coy, immortal way and he even pays a visit to his former therapist, Dr. Linda Martin (Rachel Harris, "The Hangover," 2009).
Season 6 with Lucifer as God and Chloe as a resurrected mortal, there is no longer a gatekeeper to Hell, meaning demons are free to flood the streets of Los Angeles. And one demon, seen sitting on Lucifer's throne in Hell, is out to get him.
While Chloe appears to have Lucifer's back through all of this, a surprising final glimpse in the preview suggests that she has a dramatic — possibly deadly — change of heart somewhere along the way.
And given that Season 6 is the official final season of the beloved series, it makes sense that audiences would finally learn why Chloe is the only mortal immune to Lucifer's "spell." Did her resurrection elevate her status in the cosmos as it did Lucifer's? Could Chloe possibly be immortal, too? Could her mission be not to love Lucifer, but to destroy him?
Considering Chloe and Lucifer's shared an intimacy and romance across the series, and particularly in Season 5, this is the last thing audiences might expect. Though it might be exactly "Lucifer's" style to dramatically break away from the traditional romantic tropes often seen between partners in crime procedurals. Betrayal is a major theme of these later seasons of Lucifer (and Lucifer's Biblical origin story), so no one is immune to it.
Will the showrunners #SaveLucifer, or is he destined to fall at the hands of his partner, Chloe? Fans will have to wait and see.
The final season is available to stream on Netflix beginning Friday, Sept. 10.