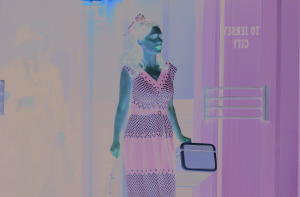 Winona Ryder in "The Plot Against America"
What if?: Today, we know that Franklin D. Roosevelt was elected to a third presidential term in 1940, and that Pearl Harbor pushed America into war. But what if the course of U.S. history had taken a hard right turn instead?
It certainly does in HBO's new alt-history drama, "The Plot Against America." Premiering Monday, March 16, the limited series is a tension-filled reimagining of history and it stars a number of familiar faces, including Winona Ryder ("Stranger Things").
It's based on Philip Roth's 2004 novel, which depicts 1940s America as a nation turning towards fascism. And the person at the helm turns out to be a not-so-alt historical figure: aviator hero Charles Lindbergh.
With his movie star looks and public sympathy over the kidnapping of his son, the real-life Lindbergh easily drew a crowd in 1940 whenever he spoke out against U.S. involvement in the war. But in 1941, his speech in Des Moines, Iowa, was widely condemned as anti-Semitic rhetoric. And Lindbergh, who never really concealed his admiration for Nazi Germany, instantly became persona non grata.
Except that's not how it plays out in the HBO series. Ben Cole ("Sense8") stars as Lindbergh, who rides a populist wave that carries him into the White House. And under this new president, America's increasingly xenophobic policies are soon aligned with those of the Third Reich.
"The Plot Against America" is told from the perspective of a working-class Jewish family from New Jersey. Ryder stars as Evelyn Finkel, who catches the eye of a key Lindbergh supporter, played by John Turturro ("O Brother, Where Art Thou?," 2000). Zoe Kazan ("The Ballad of Buster Scruggs," 2018) is her younger sister, Bess, who tries to shield her family from the escalating violence and persecution. Morgan Spector ("Homeland") is patriarch Herman Levin, who desperately tries to maintain normalcy. And Anthony Boyle ("Derry Girls") is the nephew who promptly heads to Canada when things begin to escalate, only to return disillusioned from the battlefields of Europe.
Jeong's next gig: "The Masked Singer" is still going strong on Fox, where Season 3 isn't scheduled to end until May 20. But it looks like its success has already prompted Fox to add another Korean musical import to its lineup.
The network is producing a U.S. adaptation of the South Korean musical variety show "I Can See Your Voice," which has already been remade in about a dozen different countries since its initial launch in 2015.
And when it does hit the airwaves, it'll feature at least one familiar face: actor/comedian and current "Masked Singer" judge Ken Jeong, who will serve as host and executive producer.
"As the smartest judge on 'The Masked Singer,' I am excited to be the host of 'I Can See Your Voice,'" Jeong said in a network statement. "I know exactly what the next big Fox hit will be."
At first glance, you might be puzzled by the series title -- after all, how exactly can you see a voice? -- but it's actually a pretty good way of describing the whole concept. Essentially, a contestant tries to win a cash prize by guessing which singers can carry a tune and which ones are tone-deaf without ever hearing them sing.
Here's how Fox explains it: "Helping the contestant navigate through rounds of lip sync challenges, hidden clues and true-or-false evidence will be a panel of celebrity comedians/experts and a musical superstar. In the end, the singer whom the contestant picks will reveal if they are good or bad in a duet performance with the musical superstar, resulting in an amazing musical collaboration or a totally hilarious train wreck."
Look for this one to premiere later this year.
Kimmel's 'Adopted': Jimmy Kimmel's latest writing project is one step closer to becoming a TV series now that ABC has handed it a pilot order.
Billed as a comedy, "Adopted" is based on a true story and centers on a Green Beret who returns to Texas after his military service. Once home, the young veteran and his family find themselves struggling with the challenges of adopting a 12-year-old Russian boy.
Kimmel will share writing and executive producing credits on "Adopted" with two U.S. Army veterans: former Green Beret Shawn Vance and former combat medic Daril Fannin. Their military background and experiences previously formed the basis for the Netflix series "The Green Beret's Guide to Surviving the Apocalypse," which was produced by Peter Berg and Kimmel's famous on-air frenemy, Matt Damon.
Casting for "Adopted" is already underway, but Kimmel isn't waiting idly for all the pieces to fall into place. Since signing a three-year contract extension with ABC last May, the host of "Jimmy Kimmel Live!" has been involved in a number of new projects for the Alphabet Network, including a third "Live In Front of a Studio Audience" special that will likely air this spring.
Kimmel is also teaming up with "Survivor" producer Mark Burnett to bring you "Generation Gap," although this one doesn't have an official premiere date yet. But when it does, expect to see a pop culture quiz show that requires family members to answer questions about each other's generations.