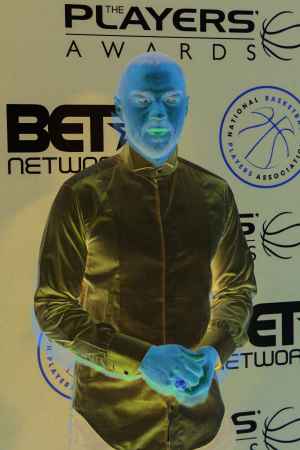 Jesse Williams to star in "Only Murders in the Building"
Welcome to The Arconia: Former "Grey's Anatomy" star Jesse Williams has been officially added to the Season 3 cast of "Only Murders in the Building."
Hulu's Emmy-winning murder mystery series, which stars Steve Martin ("Father of the Bride," 1991), Martin Short ("Three Amigos!," 1986) and Selena Gomez ("Selena Chef"), was renewed for a third season in July, shortly after Season 2 premiered, and the season finale's cliff-hanger ending set the stage for a new mystery to unravel once the show returns.
Williams will have a recurring role in Season 3 as a documentarian with an interest in Charles (Martin), Oliver (Short) and Mabel's (Gomez's) latest investigation. Paul Rudd ("Ant-Man," 2015) will also star in the new season, though it's not clear if he's onboard as a series regular or a recurring guest star.
"Paul Rudd, after making an auspicious entrance into the world of our show at the end of Season 2 as Ben Glenroy, is someone we clearly want to know more about and see in our upcoming Season 3," series co-creator John Hoffman said. "[H]e is a clear source of many upcoming questions and, as ever with our show, many twists yet to come."
Rudd's involvement with "Only Murders in the Building" reunites him with Gomez, his co-star in the 2016 Netflix film "The Fundamentals of Caring." Additionally, 2023 is poised to be a big year for the actor, whose Marvel film "Ant-Man and the Wasp: Quantumania" is scheduled to hit theatres in February. The sequel to "Ghostbusters: Afterlife" (2021) is due out in December next year.
In 'Control': Between his role as DC hero Starman in CW's "Stargirl," his hosting gig with Fox's "Crime Scene Kitchen" and the upcoming "Community" movie, actor Joel McHale is a busy guy -- and his schedule just got busier. The actor has been tapped to lead the cast of "Animal Control," a new comedy that was handed a straight-to-series order from Fox this past June.
"Animal Control" has been described as a single-camera workplace comedy that focuses on animal control workers with complicated lives.
McHale's character, Frank, is described as an opinionated and eccentric animal control officer who, according to Fox, "may not have gone to college but is still the most well-read person in the room. A former cop, Frank tried to expose corruption in his department, but his efforts got him fired, which may explain why he's so cynical and curmudgeonly. He has an almost superhuman ability to understand animals. Humans ... not so much."
McHale joins previously announced cast members Vella Lovell ("Mr. Mayor") and Ravi Patel ("Master of None"). These three will be joined by five more: Michael Rowland ("This Week at the Comedy Cellar") will play former pro snowboarder Fred "Shred" Taylor, Frank's (McHale) optimistic partner; Grace Palmer ("Good Grief") will play free-spirited Victoria Sands, who is partnered with Patel's "overwhelmed family man" character; Alvina August ("Nancy Drew") will play veterinarian Dr. Summers, who is wowed by Shred despite being Frank's secret crush; and Kelli Ogmundson ("Cavendish") as receptionist Dolores Stubb, the "office killjoy" who keeps Gerry Dee's ("Mr. D") character apprised of any happenings, since he's gunning for his boss's (Lovell) job.
"Animal Control" is an important project for Fox: it's the network's first wholly owned live-action comedy. Produced by Fox Entertainment Studios, the show is expected to have a midseason debut.
Back to Crystal Lake: Horror movie fans rejoice, because Peacock is launching a "Friday the 13th" prequel series.
The streamer recently handed the project, currently titled "Crystal Lake," a straight-to-series order. It's being described as "an expanded prequel," but plot details and a release date are under wraps for now.
We do know that Bryan Fuller ("Hannibal") is onboard as writer, showrunner and executive producer and that A24 is the studio behind the series.
"I discovered 'Friday the 13th' in the pages of Famous Monsters magazine when I was 10 years old, and I have been thinking about this story ever since," Fuller said in a statement. "When it comes to horror, A24 raises the bar and pushes the envelope, and I'm thrilled to be exploring the camp grounds of Crystal Lake under their banner."
It's been 13 years since the last installment in the hugely successful horror movie franchise, the 2009 reboot, hit theatres. A sequel to that film was in development at Paramount, but the project was shelved indefinitely in February 2017. In an interview with Syfy Wire, Fuller explained the decision was due to the poor box office performance of another horror sequel, 2017's "Rings," and more importantly, the studio's concerns about the possible loss of franchise rights.
At the time, original screenwriter Victor Miller, who now serves as one of "Crystal Lake's" executive producers, was embroiled in a lengthy legal battle over authorship rights. In 2021, Miller reclaimed the domestic and non-exclusive foreign rights to the original screenplay, thus clearing the way for this return trip to Camp Crystal Lake.