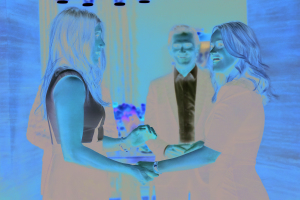 Jennifer Aniston, Billy Crudup and Reese Witherspoon in "The Morning Show"
For anyone working from home and missing the office space, business attire and the workplace drama of countless co-workers with various personalities, Apple TV has you covered. With an all-star cast and an all-too-real plot, its hit series "The Morning Show" made waves with its first season. Now back for Round 2, the platform is carrying the series into new territory.
Watch it all with an Apple TV subscription, beginning Friday, Sept. 17.
The first season began with a bang, as producers fired one of New York's "The Morning Show's" co-anchors, Mitch Kessler (Steve Carell, "The Office"), over allegations of sexual misconduct, including one from his head booker, Hannah (Gugu Mbatha-Raw, "Summerland," 2020).
Deciding it was better to take pre-emptive action than to suffer backlash and a condemnation piece from other media outlets, studio exec Cory Ellison (Billy Crudup, "Zack Snyder's Justice League," 2021) let Kessler go despite his adamant denial of the allegations, ultimately leaving host Alex Levy (Jennifer Aniston, "Friends") down a partner of 15 years together on air.
When younger, uncorrupted reporter Bradley Jackson (Reese Witherspoon, "Legally Blonde," 2001) takes the vacant spot, Levy is left trying to prove her value and relevance to the remaining men on set, most of whom are not exactly fans of hers.
Of course, the world knows Aniston for her bubbly, largely comedic roles in "Friends" and "We're the Millers" (2013), but this topical drama is anything but quirky comedy fodder. Her character's reaction to the Kessler news is one of fury, concern and inconvenience, and when tasked with explaining Kessler's sudden dismissal on air, her apology hit its designated emotional mark for everyone -- except her fiery new co-anchor, that is.
Witherspoon's character is also a far cry from her well-known role as Elle Woods. Jackson is a sassy, southern, outspoken reporter, who, after a counter-protester accuses her of pushing "fake news," speaks her mind without any fear or doubt.
When Apple TV reunited "Friends'" former Green sisters on "The Morning Show" in 2019, the concept was considered risky. Witherspoon and Aniston, "The Morning Show's" co-executive producers in real life, play co-anchors in the show, a potentially uncomfortable dynamic. But when it comes to this pricey and highly anticipated original drama, Apple TV has been nothing if not all-in, even confirming it for two seasons right out of the gate.
The series has earned Emmy and Screen Actors Guild nominations, on top of a SAG win for Aniston as lead actress. Crudup also won for his supporting role — a part he had to lobby for.
The star power behind the drama continues to be one of the main draws to the show, and this season brings plenty of new faces as "The Morning Show" takes on new plots. The updated cast includes Julianna Margulies ("The Good Wife"), Tara Karsian ("Dead to Me"), Valeria Golino ("Rain Man," 1988), Hasan Minhaj ("Patriot Act"), Greta Lee ("Russian Doll"), Holland Taylor ("Legally Blonde," 2001) and Ruairi O'Connor ("The Spanish Princess").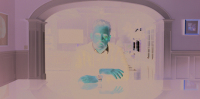 Steve Carell as seen in "The Morning Show"
Season 2's original 2020 release date was pushed to September 2021 due to the pandemic shutdowns. According to showrunner Kerry Ehrin ("Bates Motel"), the team was already a month into filming when production screeched to a halt.
As Season 1 wrapped up, Ehrin teased Carell's possible return in the following season, a tease that has now been confirmed as true. Originally locked into a yearlong contract since Day 1, producers and writers have apparently cooked up something new for Kessler.
With the changes to the storyline, however, come demands that Mbatha-Raw take a back seat, meaning fans likely won't be seeing much (if any) of Hannah in the upcoming season. The new season is focusing on changes in the workplace as the studio adjusts to a new way of life following Kessler's scandal.
"The Morning Show" is also likely to touch on the very pandemic that had them redirecting the script this year. For a show that circles around breaking news, it would be strange not to address the global event. (Oddly, Season 1 saw a similar script redirection with the rise of the #MeToo movement.)
Witherspoon even went so far as to use the phrase "a new world order" when she hinted at the new season during January's TCA press tour, going on to state, "No one knows who is in charge and what leadership means at this point. I think that's what we're exploring in the culture right now as it goes topsy turvy."
Watch along as fiery morning news anchors fight for control and change in Season 2 of "The Morning Show," premiering Friday, Sept. 17, on Apple TV .