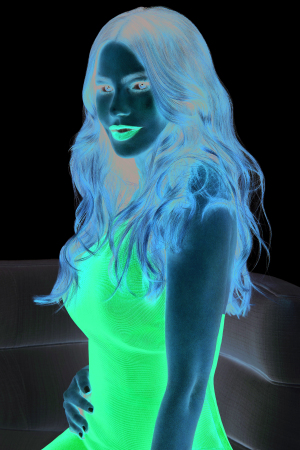 Sofia Vergara judges "America's Got Talent"
Vergara's got 'Talent': According to NBC, the first day of summer is Tuesday, May 26, because that's when a new season of "America's Got Talent" begins.
A summertime staple, "AGT" has been a perennial ratings winner for NBC and easily ranked as last summer's most-watched program. It's back again for Season 15, but the judges panel looks a little different this time around.
Heidi Klum retakes her seat at the judges desk after sitting out last season, though her return comes just a few months after her recent stint in "AGT: The Champions."
The newest member of the "AGT" family is four-time Emmy nominee Sofia Vergara, who played Gloria Delgado-Pritchett in "Modern Family." Rumors of Vergara's involvement began circulating in December, after the Colombian-born actress met with NBC executives to discuss possible projects, and her "AGT" debut was finally confirmed in February.
Vergara and Klum are joined by returning judges Howie Mandel and Simon Cowell (the latter is also "AGT's" creator and executive producer), while Terry Crews ("Brooklyn Nine-Nine") is back as the host.
It's been a few turbulent months off-screen for the Fremantle-produced show, especially after the controversial ousting of judges Julianne Hough and Gabrielle Union last November. Union's allegations of a toxic work culture prompted an internal investigation and generated a media firestorm, with former host Nick Cannon weighing in.
NBC and Fremantle moved ahead with a new season, but in mid-March there were fears that it would be pushed out after production was halted due to the coronavirus pandemic. Filming had already begun on the audition round in Los Angeles, but producers opted to reopen online auditions to show the world that America's got plenty of talent, even in quarantine.
'IOU' a big one: It seems HGTV and "Property Brothers" stars Drew and Jonathan Scott have another big hit on their hands.
Their star-studded series, "Celebrity IOU," scored big in the ratings, drawing more than 18.9 million viewers since its April 13 premiere. The freshman series just ended its run a few weeks ago, but HGTV is already asking for more: It has ordered a second season, which will likely premiere early next year.
"Since its premiere on April 13, 'Celebrity IOU' has delivered a strong, consistent weekly performance among all demos," Jane Latman, president of HGTV, said in a statement from the network. "This series continues to break records and it delights viewers with feel-good stories about fan-favorite celebs and the people who love and support them off-camera. We have to make more."
The first season of "Celebrity IOU" proved to be the kind of uplifting entertainment that viewers were craving in the midst of this global pandemic. True to HGTV's mandate, the series focused on life-changing home renovations. But what set this series apart was the involvement of Hollywood A-listers such Brad Pitt ("Ad Astra," 2019) and Melissa McCarthy ("Mike & Molly"), who rolled up their sleeves to help transform the home of a special someone who had a big impact on their lives.
Pitt's appearance in the series premiere pulled in 2.64 million viewers, the biggest audience for HGTV since last year's much-hyped "A Very Brady Renovation" special (which, incidentally, also featured an appearance by the "Property Brothers" siblings). Those ratings helped get the series off to a promising start, though Pitt's involvement has set some pretty high expectations for next season's celebrity roster.
Cage'd 'Tiger': Could we soon see a "Tiger King" TV miniseries? It seems likely. A new scripted series is currently in development under the watchful eyes of Imagine Television and CBS Television Studios executives. And, in a casting move that makes perfect sense to everyone, the role of Oklahoma big cat owner Joe Exotic will be played by none other than Hollywood eccentric Nicolas Cage ("National Treasure," 2004).
Cage is also attached to the project as executive producer, but it's the thought of the actor sporting a mullet once more (think back to 1997's "Con Air") that sent the internet into a tizzy after Deadline confirmed the story.
"American Vandal" showrunner Dan Lagana and Paul Young of "Key & Peele" are behind this miniseries, which IMDB has dubbed "The Untitled Joe Exotic Project" as the show is being shopped around.
The potential miniseries will be based on Leif Reigstad's article in the June 2019 issue of "Texas Monthly" and not the Netflix docuseries, "Tiger King: Murder, Mayhem and Madness." It will focus on Oklahoma exotic zookeeper Joe Schreibvogel and his creation of the Joe Exotic character, and it will chronicle his efforts to hold on to his big cat park at all costs.
The Cage-led project isn't the only fictionalized adaptation. Before the Netflix documentary had even dropped, it was announced that "Saturday Night Live" star Kate McKinnon was attached to a biopic based on the Wondery podcast, "Joe Exotic." McKinnon signed on as executive producer, but she will also star as Joe Exotic's nemesis, Big Cat Rescue founder Carole Baskin, who was back in the news earlier this month after being tricked into doing a fake interview.