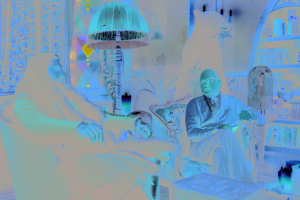 Kayvan Novak and Mark Proksch as seen in "What We Do in the Shadows"
Vampires are lurking in prime time once again, but fear not -- these vampires are more silly than scary. The undead are ready to entertain TV viewers with a whole new season of blood-curdling laughs.
Nandor the Relentless (Kayvan Novak, "Fonejacker") returns in Season 3 of "What We Do in the Shadows," premiering Thursday, Sept. 2, on FX. Sharing a Staten Island, New York, apartment with fellow blood-sucking vampires Lazlo (Matt Berry, "Toast of London") and Nadja (Natasia Demetriou, "Stath Lets Flats"), Nandor also "lives" with energy vampire Colin Robinson (Mark Proksch, "The Office"), who feasts on energy and frustration. Nandor's familiar, Guillermo (Harvey Guillén, "The Magicians"), rounds out the Staten Island crew.
Fans have been anxiously awaiting the return of the show since FX announced the third season in a June Twitter post that read: "Dust off your velvet capes and grab the glitter."
Filmed in the mockumentary style, "What We Do in the Shadows" is based on the 2014 New Zealand comedy-horror film by the same name, written by Jemaine Clement ("Flight of the Conchords") and Taika Waititi ("Jojo Rabbit," 2019), that followed a different crew of vampire roommates. FX picked up the American spinoff in 2018 and ordered 10 half-hour episodes, which kicked off in March 2019. It was renewed in May of that year, and again in May 2020, before the long wait for Season 3 (which is finally ending for fans of the kooky vampires).
Since the (re)death of ancient vampire Baron Afanas (Doug Jones, "The Shape of Water," 2017) in Season 1, Nandor, once a fearsome warrior and conqueror from the Ottoman Empire, is the oldest vampire in the house and self-proclaimed leader of the group. Unfortunately for him, none of his roommates seem to take him seriously.
Meanwhile, British rogue Lazlo is a lover not a fighter, and seductress Nadja is often annoyed by her male roommates. Then there's Colin, whom no one likes, and, in fact, he seems to prefer it that way as it makes it easier to feed off of their negative energy.
Last season it was revealed that Nandor's once-trusted familiar, Guillermo, is a descendant of famed vampire hunter Abraham Van Helsing. Guillermo used his vampire-killing skills to save Nandor, Nadja and Lazlo from certain death at the hands of the Vampire Council at the end of last season, leaving the trio to figure out what do do about him. Meanwhile, the vampires are elevated to a whole new level of power and must now face the vampire from which all vampires are descended.
This season also features a tempting siren, gargoyles, werewolf kickball, Atlantic City casinos, wellness cults, ex-girlfriends, gyms and plenty of other natural, unnatural and supernatural curiosities. As Colin turns 100, Nandor experiences an eternal-life crisis that leaves him searching for more meaning in his un-life. Viewers will have to tune in to find out whether he finds love or remains an immortal bachelor with countless ex-wives.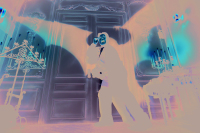 Harvey Guillén stars in "What We Do in the Shadows"
Fans should also be on the lookout for high-profile guest stars this season as "What We Do in the Shadows" has a reputation for luring some well-known performers to the show.
Past guest stars have included Mark Hamill ("Star Wars: Episode IV - A New Hope," 1977) as Jim the Vampire, Nick Kroll ("Big Mouth") as vampire nightclub owner Simon the Devious, Vanessa Bayer ("Saturday Night Live") as emotional vampire Evie, Kristen Schaal ("Bob's Burgers") as The Guide, and Dave Bautista ("Guardians of the Galaxy," 2014) as a vampire named Garrett. Members of the Vampire Council have been played by Hollywood stars Tilda Swinton ("Michael Clayton," 2007), Evan Rachel Wood ("Westworld"), Danny Trejo ("Con Air," 1997), Paul Reubens ("Pee-Wee's Big Adventure," 1985) and action star Wesley Snipes ("Blade," 1998).
While no Season 3 guest stars had been officially confirmed as of press time, in the June 21 edition of the podcast SmartLess, actor and comedian David Cross ("Arrested Development") told the hosts that he had filmed an episode of "What We Do in the Shadows."
Even if producers don't manage to snag A-listers for the new season, the show's cast is sure to keep audiences laughing. Novak won a BAFTA Television Award for Best Comedy (Programme or Series) for his work on "Fonejacker," while Berry is a BAFTA Award winner for Best Male Performance in a Comedy Programme for his appearance in "Toast of London." He also picked up a Critics Choice nomination for "What We Do in the Shadows."
Demetriou, meanwhile, wrote and starred in the BBC Three sketch comedy series "Ellie and Natasia," and has been nominated for a Critics Choice Award for her role in "What We Do in the Shadows." Guillén and Proksch also each earned a Critics Choice nomination for their roles in the series.
In fact, the show itself was up for Best Comedy Series at this year's Critics Choice Awards, so it's no surprise that it has been gaining ground in the ratings — the audience grew by approximately 25% between Seasons 1 and 2, and the trend could very well continue as the vampire antics resume this season.
Join vampire roommates Nandor, Lazlo, Nadja and Colin, along with Guillermo, in the Season 3 premiere of "What We Do in the Shadows," airing Thursday, Sept. 2, on FX.