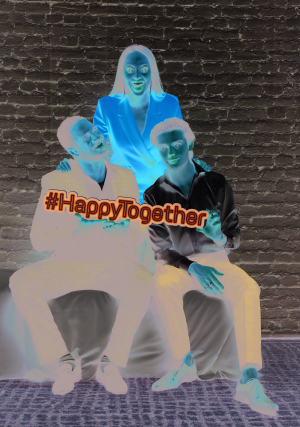 Damon Wayans Jr., Amber Stevens West and Felix Mallard star in "Happy Together"
With endless entertainment at the touch of a button and abundant convenience food options available, many modern couples sink into a life of relative comfort and predictability. But being comfortable can be awfully boring, especially on TV. A couple gets a taste of the sweet life in a new comedy, and so far audiences are eating it up.
Damon Wayans Jr. ("New Girl") stars as Jake Davis, a successful accountant who lives a comfortable suburban life with his wife, restaurant and bar designer Claire (Amber Stevens West, "The Carmichael Show"), in "Happy Together," which airs Mondays on CBS. Their lives have been turned upside down by Jake's client, Cooper James (Felix Mallard, "Neighbours"), an Australian pop star who moves in with the couple in the hopes of escaping the paparazzi after a very public breakup.
As Cooper settles in, Jake and Claire begin to realize they may not be the hip couple they used to be and worry that their lives have become mundane. Cooper's presence inspires them to explore their wild sides and get fit, but they soon discover that not acting their age has consequences. In contrast, the pop star revels in the laid-back atmosphere of Jake and Claire's suburban home, where he can relax away from the glitz and glamor of his celebrity lifestyle.
Admittedly, it's a far-fetched premise for a sitcom, but the idea was actually inspired by a true story. Singer Harry Styles ("Dunkirk," 2017) from the British pop group One Direction once lived in the attic of producer Ben Winston's ("The Late Late Show With James Corden") humble home in London for several months. "Happy Together" may have been inspired by Styles' time living with Winston and his family, but the executive producer has made it clear that the comedy isn't a true-to-life retelling of the experience.
"Although Harry and I are producing this show together," Winston explained on Twitter in August, "it is simply loosely inspired by our living situation. NO character and NO stories are based on anything real."
Styles wasn't attached to the show in the beginning, but he has since signed on as an executive producer, alongside Winston and show creators Tim McAuliffe ("The Office") and Austen Earl ("9JKL"). Michael Rotenberg ("King of the Hill") and Jonathan Berry ("Insecure") also serve as executive producers of the new CBS comedy.
So far, ratings for the series have been modest but fairly steady, with more than four million loyal viewers regularly tuning in. That's no small feat, given the competition. "Happy Together" has held its own against such series as ABC's ratings juggernaut "Dancing with the Stars," Fox's medical drama "The Resident" and NBC's reality TV hit "The Voice."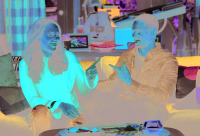 Amber Stevens West and Damon Wayans Jr. in "Happy Together"
With such an unlikely premise, the series was initially on shaky ground, but it has managed to find its footing since premiering in early October. Much of the show's appeal is thanks to the comedic chemistry between its three stars. Wayans, Stevens West and Mallard have been praised for their timing and delivery as the trio of housemates. Both Wayans and Stevens West have been rising through the ranks of American television for years. Australian actor Mallard may be a fresh face to American viewers, but in his homeland he's well known for his work on the Australian soap opera "Neighbours."
The show's supporting cast includes Stephnie Weir ("MADtv") as Claire's mother, Bonnie, a retired doctor. Victor Williams ("The King of Queens") portrays Claire's father, Gerald, a role that was originally supposed to be played by Tim Meadows ("Saturday Night Live"), who had to leave the project because of other commitments. Gerald, too, is a retired doctor. Chris Parnell ("Saturday Night Live") co-stars as Cooper's agent, Wayne.
So far, "Happy Together" is amassing an impressive list of guest stars with late night host James Corden appearing as himself in the show's pilot, along with Disney darling Peyton List ("Jessie") as Cooper's ex-girlfriend, vapid celeb Sierra Quinn. TV veteran Damon Wayans ("In Living Color"), the real-life father of series star Wayans Jr., appeared in an October episode of the show as -- you guessed it -- Jake's father.
It wasn't the first time the father-son duo has acted together. They have appeared together many times, most recently in Wayans Jr.'s previous series "Happy Endings." In an ew.com article, the younger Wayans joked about how he convinced his dad to guest star in his latest series.
"I had my agent call his agent," he quipped, "and after some contentious negotiating, I made the personal call and went, 'Hey, man, you're my dad.'"
In the episode of "Happy Together" featuring both Wayanses, Jake realized that his relationship with his father may not be as close as he once thought when his dad opened up to Cooper instead of him. Other storylines have explored Claire's efforts to get back into her old jeans, Jake's hopes to slam dunk again, the couple's unhealthy eating habits and Cooper's struggles to distance himself from celebrity culture.
At the end of the day, it's the strength of the performances that make the sitcom watchable, even with its unlikely premise. Stevens West, Wayans Jr. and Mallard make for an entertaining trio worth watching, so don't miss Claire, Jake and Cooper in "Happy Together," airing Monday, Nov. 26, on CBS.