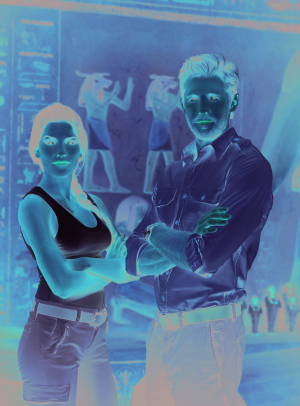 Sofia Pernas and Matt Barr star in "Blood & Treasure"
Reality TV may rule the summer airwaves, but there's still plenty of drama if you know where to look. One network has combined action, intrigue and romance into a slick, globe-trotting adventure series that TV viewers won't want to miss.
Matt Barr ("Hatfields & McCoys") stars as former FBI agent and antiquities expert Danny McNamara, who recruits skilled art thief Lexi Vaziri (Sofia Pernas, "The Brave") to help him find a terrorist who's been funding his attacks with stolen art and relics in "Blood & Treasure," airing Tuesday, June 4, on CBS. As the saga unfolds, it becomes clear that McNamara and Vaziri have tapped into a conflict that dates back 2,000 years.
"Blood & Treasure" has been in the works since 2017, when news broke that writers Matt Federman and Stephen Scaia had created a new action series. The premise for the show was so enticing that CBS gave "Blood & Treasure" a 13-episode straight-to-series order, a rare move in this day and age. Given Federman and Scaia's track record, it's understandable that the network would have faith in the series right out of the gate. They're known for their work on CBS's "Limitless" and "Jericho," as well as Syfy's "Warehouse 13" and other popular TV series. Federman and Scaia serve as executive producers of "Blood & Treasure," alongside Taylor Elmore ("Justified"), Ben Silverman ("The Office"), Marc Webb ("Crazy Ex-Girlfriend") and rookie producer Mark Vlasic.
Featuring an exciting mix of action, adventure and mystery typically reserved for the big screen, "Blood & Treasure" has been compared to hit film franchises like Indiana Jones and National Treasure. Filmed in Montreal, Italy and Morocco, the show boasts an international flair as McNamara and Vaziri flit from one exotic locale to another in search of terrorist Karim Farouk (Oded Fehr, "The Mummy," 1999), "Blood & Treasure's" villain. Within the first five minutes of the series, Farouk had blown up an Egyptian pyramid in a shocking scene that set the tone for the show's no-holds-barred approach to action.
The cast also includes Alicia Coppola ("Jericho") as Dr. Ana Castillo, McNamara's mentor, who's kidnaped by Farouk. Her abduction, and the theft of a priceless artifact, is what spurs McNamara into action, aided by Jay Reece (guest star John Larroquette, "Night Court") in the series premiere.
As Vaziri and McNamara race to find Farouk and save Castillo, they encounter a diverse group of individuals who may or may not be allies. Aiden Shaw (Michael James Shaw, "Limitless") is an arms dealer who, not surprisingly, is solely interested in self-preservation. Crafty antiques broker Simon Hardwick (James Callis, "Battlestar Galactica") has made a fortune procuring stolen artifacts for the wealthy.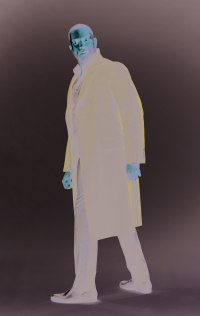 Michael James Shaw as seen in "Blood & Treasure"
While the dynamic duo deals with these and a number of other unscrupulous players, they luckily have a little help from McNamara's childhood friend, Father Chuck (Mark Gagliardi, "Drunk History"), who works at the Vatican Foreign Ministry in Rome.
Like the heroes, Interpol agent Gwen Karlsson (Katia Winter, "Sleepy Hollow") wants Farouk brought to justice. However, she's adamant that McNamara and Vaziri obey international laws on their quest to find and stop the terrorist.
In August, it was announced that Anna Silk ("Lost Girl") had snagged a recurring role as a skilled international tracker and mercenary known as Roarke. "Blood & Treasure" will also feature appearances by Mohamed Marouazi ("Tom Clancy's Jack Ryan") as Reza Vaziri and Antonio Cupo ("Bomb Girls") as Capt. Elio Fabi.
In addition to the big-screen-worthy action sequences, much of the show's appeal relies on the chemistry between the two leading characters, who happen to share a romantic past. Unfortunately, their passionate affair came to an end because Vaziri blamed McNamara for the death of her father, an antiquities dealer who died at the hands of a ruthless terrorist. Crushed, she's turned to a life of crime, stealing artwork as she bides her time to get revenge on the man responsible for her father's demise. McNamara had been a rising star in the FBI until a tragic mistake derailed his career. His mission with Vaziri could be his shot at redemption.
Both Barr and Pernas should be familiar to TV fans, though "Blood & Treasure" just might be their biggest claim to fame yet. Leading man Barr was actually among the last actors cast in the series, having earned the role of McNamara in June 2018. Before that, he had been involved in several other CBS TV Studios projects, including CW's "Valor" and CBS's "Harper's Island." Pernas joined the cast of "Blood & Treasure" in May 2018, after NBC canceled the military drama "The Brave," freeing her up to pursue the CBS project.
With daring stunts, heart-stopping action sequences, explosions, will-they-won't-they romance, international mystery and more, "Blood & Treasure" offers viewers a thrilling romp through prime time this summer. Check it out Tuesday, June 4, on CBS.