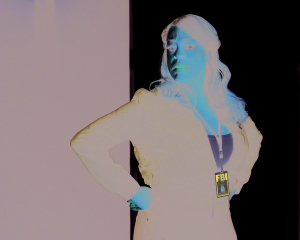 Niecy Nash-Betts stars in "The Rookie: Feds"
The LAPD is back on the case when Nathan Fillion ("Castle") returns as Officer John Nolan in the Season 5 premiere of "The Rookie," airing Sunday, Sept. 25, on ABC.
While Officer Nolan has moved up the ranks in the LAPD after his start as the department's oldest-ever rookie in Season 1, the past season of the procedural drama introduced a new rookie character who is at the center of a brand-new spinoff series. FBI Special Agent Simone Clark, portrayed by "Claws" star Niecy Nash-Betts, quickly bonded with Nolan over having both been the oldest rookies to join their departments. She now leads her own series, "The Rookie: Feds," premiering Tuesday, Sept. 27, on ABC.
Nolan and Clark spent two episodes last season on "The Rookie" working together on a joint LAPD/FBI case, where they tried to catch a bomber with ties to the military and who had been a student of Clark's when she was a school counsellor (before her burgeoning FBI career). The pair track down the suspect, who had set bombs all over the Los Angeles freeways, while connecting over their shared experiences of joining law enforcement much later in life than most other new officers.
Viewers last saw Nolan surviving a dangerous shootout between officers and members of a gang in a California border town while there on a training exercise. And while Nolan was in Frontera, two officers in his department cut the will-they-won't-they tension with a long-awaited kiss. After four seasons, officers Lucy Chen (Melissa O'Neil "Dark Matter") and Tim Bradford (Eric Winter "Rosewood") deepened their professional relationship by making it a bit more personal.
So where do they go from there? "The Rookie" series creator Alexi Hawley gave fans a bit to go on when speaking at a San Diego Comic-Con panel this summer, saying, "There will definitely be repercussions and some fallout from that [kiss], but I do think it's fair to make you wait to see exactly where that goes."
With Bradford having trained Chen when she was a rookie on the force, "repercussions" and "fallout" are more than expected, and Hawley's cagey answer to questions about the fan-favorite maybe-couple are only adding to the excitement of what viewers can expect to see in the new season.
Speaking of exciting developments, Nash-Betts revealed some more about her "The Rookie: Feds" character, Clark, telling the audience at Comic-Con that "we haven't seen this woman before." She pulled out some stats, noting "less than 1% of Black women make up the FBI," before describing Clark as "serious, funny, sexy, sexually fluid, older and comfortable in her skin." Nash-Betts went on to describe Clark warmly, saying, "We all know someone like Simone. I grabbed a little bit from different women in my life. She is a friend in your head or your favorite auntie. I was like, 'I know this woman. She is a culmination of so many women.'"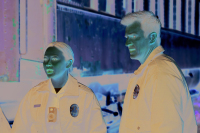 Melissa O'Neil and Nathan Fillion in "The Rookie"
This character rundown comes as no surprise if you've seen Nash-Betts in any of her past roles. You could even say that she is known for portraying unserious law enforcement. Having brought Deputy Raineesha Williams to life over the nearly two-decade off-and-on run of "Reno 911!," Nash-Betts will certainly bring some levity to Clark and "The Rookie: Feds." She also gave an unforgettable performance in the short-lived, wacky horror comedy "Scream Queens" as security guard Denise Hemphill before turning the tables for her lead role in "Claws" as nail salon owner Desna Simms, who does some other (far less law-abiding) business on the side.
Most details about the new series are under wraps for now, but Hawley did reveal at the Comic-Con panel that he had been planning "The Rookie: Feds" for a while. Hawley said, "It's a universal experience, the restarting your life, the second chapter. So it always felt like there was room for that to grow. Once we got a couple of seasons under our belt, we started hatching our evil plan to expand the universe."
Filling in the world of "The Rookie: Feds" are Frankie Faison ("The Village"), as Clark's anti-law-enforcement father, Christopher 'Cutty' Clark; as well as Felix Solis ("Charmed"), as supervisory Special Agent Matthew Garza; Britt Robertson ("Big Sky"), as Special Agent Laura Stenson; and Kevin Zegers ("Rebel") as Special Agent Brendon Acres.
Having secured a new role within the LAPD at the end of last season, "The Rookie" sees the titular rookie start something new again in the upcoming fifth season. Nolan has become a training officer in his department and is taking on a whole new set of responsibilities. Fillion told the audience at the Comic-Con panel for "The Rookie" that Nolan has "elevated to a new level of his job, and he's starting at rock bottom. I get a brand-new rookie who's making all the same mistakes I was making as a rookie."
Don't miss the season premiere of "The Rookie" on Sunday, Sept. 25, on ABC, where "The Rookie: Feds" gets its series premiere two days later on Tuesday, Sept. 27.