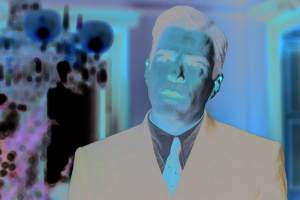 Zachary Quinto stars in "NOS4A2"
The Season 1 finale of "NOS4A2" couldn't have been more riveting: a maniacal immortal woke up from his coma, ready to feed on the souls of more children. While it was satisfying to see the show's famous car go up in smoke, the show's villainous vampire is indeed back in another thrilling season of this dark series. You can catch the second episode of Season 2 when it airs Sunday, July 5, on AMC.
The series is based on author Joe Hill's third novel, also named "NOS4A2." Hill's first two books, "Heart-Shaped Box" and "Horns," have already been snapped up by filmmakers, so be on the lookout for those big-screen adaptations. "NOS4A2," on the other hand, is perfect for the television treatment. It's been given a two-season-and-counting run on AMC, the network that's been home to mega-hits such as "Breaking Bad" and "Mad Men."
The show's title is ominously pronounced "Nosferatu," and its license plate-styled spelling is a nod to the book's cover art and one of the story's most important characters, a 1938 Rolls-Royce Wraith.
Season 1 does a great job setting up an airtight, gripping plot. It opens in a town called Here, Iowa, where contemporary vampire Charlie (Zachary Quinto, "Star Trek Into Darkness," 2013) lures kids into the too-good-to-be-real Christmasland, where every day is Christmas and sadness is a crime. Of course, he rarely mentions the part where he devours most of each child's soul.
Meanwhile, in Haverhill, Massachusetts, a townie named Victoria "Vic" McQueen (Ashleigh Cummings, "The Goldfinch," 2019) must come to terms with her own supernatural powers. She can find answers and missing things just by riding her bike across an old, decrepit bridge called the Shorter Way. While crossing the bridge, Vic meets a medium named Maggie (Jahkara Smith, "Into the Dark"), who gives her an important mission: save the children from Charlie.
But somehow, Charlie can sense Vic's presence and hopes to recruit her to the dark side. He and his new apprentice, Bing Partridge (Ólafur Darri Ólafsson, "Eurovision Song Contest: The Story of Fire Saga," 2020), track her down, and what followed was a gripping tale with twists and turns that kept viewers on the edge of their seats. Interesting characters like Charlie's old love interest, Jolene (Judith Roberts, "Orange Is the New Black"), and Vic's childhood friend and secret admirer, Craig (Dalton Harrod, "Second Act," 2018), have come and gone (in a blaze of glory), fleshing out the backstories of the main characters and proving that no one is safe in this series.
Ultimately, Season 1 ends in flames: after a major explosion, Charlie slips into a coma, but then, six months later, he is awoken once more.
Season 2 takes place eight years after Charlie regained consciousness. Vic is all the more determined to destroy Charlie, who is now seeking revenge and targeting the person who means the most to Vic: the 8-year-old son, Wayne (Jason David, "For All Mankind"), that she had with Lou Carmody (Jonathan Langdon, "Utopia Falls"). The fight over Wayne's soul throws Vic and Charlie on a high-speed collision course, each determined to claim the boy at all costs.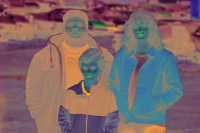 Jonathan Langdon, Jason David and Ashleigh Cummings in "NOS4A2"
So far this season, Vic has turned to Maggie to get information about Charlie's whereabouts. Meanwhile, Charlie's assistant, Bing, has started tracing the Wraith's whereabouts. So far, he's found nothing but dead ends. Perhaps one of the most important developments in this new season is that Millie Manx (Mattea Conforti, "Power"), one of Charlie's "children," has just uncovered a new dimension inside Christmasland.
"NOS4A2" is more than ready to grip audiences once more with its unique, otherworldly brand of awe. This horror series has hit a chord with viewers, and its fans are relishing in its dark and mysterious premise. While we loved seeing Charlie's Wraith explode and watching the bad guy get what he deserved, we couldn't be happier to see him return for this second installment.
Hill, the show's writer and creator, comes by his penchant for the dark and creepy honestly. He's the son of legendary horror writer Stephen King, who brought us such terrifying classics as "Pet Sematary," "'Salem's Lot," "Carrie," "Misery," "The Stand" and oh so many more. While he may be the son of horror royalty, Hill has made his own way in the literary world and is no stranger to seeing his work on the small screen: if you haven't watched the adaptation of his comic book series "Locke & Key" on Netflix, you should definitely put it on your list.
The genius of "NOS4A2" may have begun with Hill's novel, but the show's screenwriters and acting talent can be thanked for building just the right amount of tension into the exhilarating plot twists. The series is an impeccably faithful rendition of Hill's original story, and it translates incredibly well to the screen. Tune in on Sunday, July 5, as a new episode of the second season of "NOS4A2" airs on AMC.