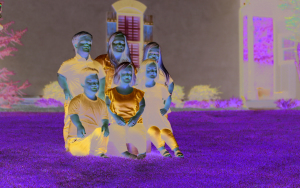 The Johnstons of "7 Little Johnstons"
To state it bluntly, this past season of "7 Little Johnstons" was a nail-biter. Fortunately, audiences don't have any longer to wait for Season 10. The show's home network, TLC, launches the Season 10 premiere of "7 Little Johnstons" this Tuesday, Nov. 16, and fans have mixed feelings about the new additions.
Amber and Trent Johnston are the biological parents of Jonah and Elizabeth, and adoptive parents to Anna, Alex and Emma — all seven of them are little people. While Season 9 saw major life transitions for everyone, it was the three older children who made the most tracks by moving out of the house to start adult lives of their own.
Another change came in the form of Amber's cancer scare. After growing concern about some of the moles she had, a doctor's visit confirmed the very real possibility that Amber may have skin cancer.
Thanks to the season finale's cliffhanger, viewers haven't yet heard a straight diagnosis. While Amber has since posted on Instagram with the caption "skin cancer is real cancer," she has neither confirmed nor denied her relation to the disease due to her contract with TLC. Otherwise, the mother of five appears to be in good spirits and enjoying time with family until the topic is addressed this coming season.
Also in Season 9, Amber and Trent sat down with each of their older kids to review budgets, search for jobs and hunt for houses. Having hopefully (and woefully) prepared their children for the discrimination they're bound to face due to their achondroplasia dwarfism (a condition in which their limbs are shorter than average), the Johnstons want to ensure their children are well equipped to handle this newest stage of their independent lives.
And speaking of independence, Amber and Trent got a talking to of their own when they suggested Anna live on campus while attending classes. Though it may not seem like a backlash-worthy suggestion, audiences have pointed out a potential double standard in the idea, given that Jonah has been living at home while in school himself.
A handful of viewers believe the Johnstons are mistreating their daughter, arguing that some people simply aren't ready to fly the coop during their college years.
Meanwhile, youngest daughter Emma recently learned she has a speech impediment and is working on building up her confidence as she enters high school.
According to TLC, Season 10 of "7 Little Johnstons" will highlight the family's major life changes, from new homes to milestone birthdays and other major moments. For example, when Liz brings boyfriend Bryce along on a family trip, the rest of the family — as well as the audience — begin to wonder if the "7 Little Johnstons" crew is about to gain an eighth member.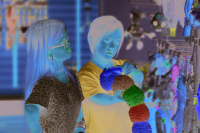 Anna and Emma Johnston shopping in "7 Little Johnstons"
Amber and Trent are also making some career changes, and two of their kids celebrate their Sweet 16 — they've come a long way since the 2015 premiere, and fans can expect big surprises from this little family.
While reality TV does require an element of drama, the Johnstons still exude the realness of an everyday family. An incredibly empowering show, diversity, inclusion and overcoming limitations are topics near and dear to this family's heart, not to mention an integral theme driving the series.
Welcoming the world into their home, viewers see that the Johnstons are just like everyone else, real-world problems included. Determined to keep each episode focused on "mundane" day-to-day operations, Amber once explained in an interview that dining at fancy restaurants or always being on vacation doesn't help anyone relate to them or the extended community of little people.
She has also stated that she and her husband want and encourage their children to set high standards; to overcome challenges while being practical. They use average-size furniture because they wanted their kids to grow up conscious that the world was, in many ways, not made for them; that they will constantly face challenges because of their dwarfism, but life doesn't stop and neither should they.
When approached about progress for their community of little people, Amber commented that things have changed but there's a long way to go.
There's been no "civil rights movement" for little people and not nearly as much representation on television as there should be. Despite the name "7 Little Johnstons," Amber doesn't want shows that represent little people to focus solely on stature. With this context, we can see just how important Season 10 will be.
All in all, expect the Johnstons to keep education and inclusion top of mind.
"That is all of our goals," Amber told People in a recent interview, "to make this world a better place and a more accepting place. That's how you do it — by educating. "
Join the "7 Little Johnstons" as they take on the world in Season 10 of their hit series. It all begins Tuesday, Nov. 16, on TLC.