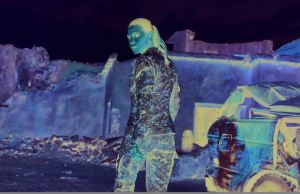 Toni Trucks as seen in "SEAL Team"
It's nothing new for TV shows to have a strong focus on family, but more and more, series are branching out in their depictions of those families and who they consist of. The chipper nuclear foursome of the "Leave It to Beaver" days still exists, of course, but from there we were also gifted with surrogate families made up of pals in such shows such as "Friends" and "How I Met Your Mother," or of co-workers, as in "Grey's Anatomy."
"SEAL Team," for one, gives a look at the importance of both the family you work with and the one you come home to -- and specifically, the balancing act required to keep both afloat. Midway through its sophomore season, the military drama has witnessed a tragedy that brings this balance even more sharply into focus. Catch a new episode of "SEAL Team" on Wednesday, Nov. 21, on CBS.
The series follows Bravo Team, a sub-unit of an elite team of Navy SEALs, and the perilous clandestine missions they're sent on across the globe. It's critical and strenuous work that's formed tight bonds between the members of the team who work together so closely and put their lives in each other's hands, but it takes its toll on them and the families they're forever leaving behind in the course of duty.
Bravo Team is led by Jason Hayes, played by David Boreanaz ("Bones"). He heads up a close-knit team that includes Ray Perry (Neil Brown Jr., "Straight Outta Compton," 2015), a family man and Hayes' right-hand man. "Mad Men's" Jessica Paré plays CIA liaison Mandy Ellis, and Toni Trucks ("Barbershop") plays logistics specialist Lisa Davis, responsible for gearing the team up for their missions. Lt.-Cmdr. Eric Blackburn is the team's commanding officer, played by Judd Lormand ("Jack Reacher: Never Go Back," 2016), who was bumped up to main cast member for season 2.
A.J. Buckley ("CSI: NY") plays tough Texan Sonny Quinn, a highly dependable soldier who nevertheless is known for displaying certain volatile and self-destructive tendencies. The newest member of the team is Clay Spenser (Max Thieriot, "Bates Motel"), an eager second-generation SEAL who was made a full-fledged member midway through season 1. Spenser has a way about him that reminds Hayes of a friend and team member who died before the start of the series -- a loss with which he still struggles.
From the first episode of the series, it's made clear that Hayes' dedication to his job and Bravo Team has placed a heavy burden on his family life. He's the father of two kids and is estranged from his wife, Alana (Michaela McManus, "Aquarius"), whose decision midway through season 1 that the two should divorce has caused Hayes much heartache. As it turns out, however, his greatest grief was yet to come.
The new season is set six months after the season 1 finale, which saw Hayes suffering from hallucinations brought on by a concussion he sustained in a helicopter crash. He's back in form in the season 2 premiere and leading the team -- Spenser is now his second-in-command, since Hayes' trust in Ray was broken after the latter's lie about an injury resulted in a death. It's a tough place to be for two men who call each other brother, and who rely on each other completely.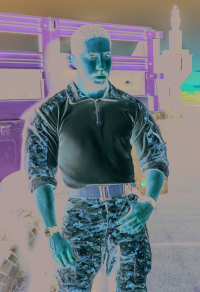 Neil Brown Jr. stars in "SEAL Team"
On the home front, the season 2 opener saw Hayes living platonically alongside Alana; the divorce is final, but he still wants to be there for her and their kids. It's a temporary peace in Hayes' life, however, as in the very next episode, he's informed (spoiler!) that Alana has been killed in a car crash.
As well as a devastating tragedy, it's a major upheaval for Hayes, who suddenly finds himself the sole parent of two kids. He's forced to resign from Bravo Team in order to focus on his duties as a father, but watching from the sidelines is not easy for someone so dedicated to the job and his team. It's his daughter, Emma (Kerri Medders, "Alexa & Katie"), who, after initially lashing out at him, comes to recognize the importance of what her father does, and encourages him to return to the field.
It's a lot of emotion for an already high-octane show, and it's taken things to an interesting place. Having been given his daughter's blessing, Hayes can now return to his work family at full strength, without the guilt about his home-front family left behind.
"His daughter gave him that clearance saying, 'You're not good here. You need to go because that's going to make us happy and make us fuller,'" the actor said in an interview for Parade.com. "That's full-circle, which pays off big-time."
See where things end up for Bravo Team before the Christmas hiatus, when a new episode of "SEAL Team" airs Wednesday, Nov. 21, on CBS.