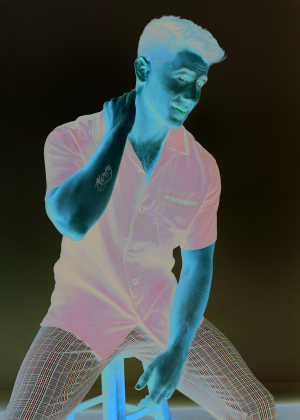 Nick Jonas joins "The Voice"
Take a seat: News that Adam Levine was walking away from "The Voice" came as a shock last May, especially since he appeared to have signed on for two more seasons.
Fans of NBC's singing competition series have had a few months to recover from the loss of the Maroon 5 frontman, who is enjoying his new status as a stay-at-home dad. Gwen Stefani stepped in to fill his vacated seat for Season 17, but it seems Stefani isn't sticking around for Season 18, either.
And that's OK, because NBC has already lined up a replacement: Nick Jonas.
The youngest member of The Jonas Brothers is about to become the youngest full-time coach in "The Voice's" history. He'll be taking a seat in one of those famous red swivel chairs when the spring edition of the competition debuts in 2020.
Unlike Levine's exit, this new lineup change isn't all that surprising. Stefani, who is set to receive the Fashion Icon Award at the 2019 People's Choice Awards (Nov. 10 on E!), will be busy wrapping up her two-year Vegas residency in early 2020. And "The Voice" has a history of cycling through coaches, with only Shelton (and until recently, Levine) remaining from the original lineup.
As for Jonas, the singer-actor ("Jumanji: Welcome to the Jungle," 2017) made the announcement – or rather, his soon-to-be-co-workers did it for him – on "The Ellen DeGeneres Show" after teasing some "big news" on Twitter (and after he suddenly started following Kelly Clarkson and Blake Shelton on Instagram).
Jonas may be one-third of a Grammy-nominated group, but he also knows the pressures of being a successful solo act – in fact, his 2014 single "Jealous" has been certified triple platinum. And he's not exactly new to this TV competition stuff, either, having appeared in an episode of NBC's "Songland" in June.
But right now he and his brothers are in the middle of their "Happiness Begins" tour in support of their new album, which hit No. 1 on the Billboard 200. Don't worry – the tour ends in February 2020, which should give Jonas plenty of time to practice his chair spin before going toe to toe with the other "Voice" coaches.
HBO's empty nester: As a parent, it's hard to see your child leave home for the first time. There can be feelings of sadness, a loss of purpose and a loneliness accentuated by a sudden increase in free time. You're proud of them. But you also miss them a lot.
The most common advice to empty nesters is to embrace this new stage in life. And that's precisely what "Mrs. Fletcher" does, but in a rather unexpected way.
The HBO limited series premieres Sunday, Oct. 27, and stars Kathryn Hahn ("The Secret Life of Walter Mitty," 2013). It's based on Tom Perrotta's bestselling novel of the same name, and it's being touted as a "dual coming-of-age story" that delves into the impact of social media and sexual online content on our lives today.
Hahn plays single mom Eve Fletcher, who is about to become an empty nester. Son Brendan (newcomer Jackson White) is bound for college and thinks he's ready for the world. But Eve is overwhelmed and doesn't feel fulfilled – not at work, not in her personal life. She makes a surprising discovery while helping her son pack, and that leads to an awakening and the start of Eve's quest for personal fulfillment in every way.
The limited series was previewed last month at the Toronto International Film Festival. And while some critics felt it could have benefited from having a longer run to develop the characters and the two storylines, the consensus was that Hahn is consistently funny in the role.
For a while, Hahn seemed to be Hollywood's go-to choice for outrageous gal pals (see 2003's "How to Lose a Guy in 10 Days" and 2004's "Anchorman: The Legend of Ron Burgundy"). But recent roles, including her turn as Rabbi Raquel Fein in "Transparent," have shown that the Yale-trained actress has a range that stretches beyond the laughs, though there are plenty to be had in "Mrs. Fletcher."
Comey soon: CBS TV Studios is moving ahead with its miniseries based on former FBI director James Comey's bestselling memoir, "A Higher Loyalty: Truth, Lies and Leadership." And it has already cast some of the key players.
The biggest name is two-time Emmy winner Jeff Daniels ("The Newsroom"), who will play Comey. Daniels is wrapping up his yearlong Broadway run this week. And his Tony-nominated turn as "To Kill a Mockingbird's" Atticus Finch is an interesting lead-in to his next acting gig as another lawman -- albeit a more controversial one.
You'll recall Comey served as FBI director from 2013 until May 2017, when he was dismissed by President Trump. Comey has taken heat from both sides of the political spectrum: he drew the ire of the Democrats for his handling of the Hillary Clinton email controversy during the 2016 presidential election; and Comey ultimately drew the ire of the president during his investigation of Russian election interference.
These events are among those chronicled in Comey's 2018 memoir, which sold more than 600,000 copies in its first week alone and prompted a bidding war over the TV rights.
As for the rest of the cast, Brendan Gleeson ("Mr. Mercedes") will star as President Trump and Michael Kelly ("House of Cards") will play former acting FBI director Andrew McCabe. Tony winner Jennifer Ehle, who also appeared with Daniels in the Hulu series "The Looming Tower," will star as Comey's wife, Patrice.
Screenwriter Billy Ray ("Captain Phillips," 2013) has already spent a year adapting the book and researching the miniseries. He is the co-executive producer and will also direct the series, which begins production later in November.
According to Variety, it's not known yet if the miniseries will be broadcast on CBS All Access or Showtime (or maybe both).