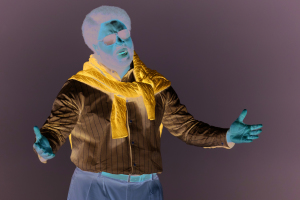 Bashir Salahuddin stars in "Sherman's Showcase"
As temperatures begin to soar and summer kicks into high gear, TV's latest sketch comedy sensation returns to celebrate Black History Month, albeit a bit late.
Bashir Salahuddin ("South Side") stars as his prime-time alter ego Sherman McDaniels in "Sherman's Showcase: Black History Month Spectacular," premiering Friday, June 19, on AMC. Unfazed by the fact that Black History Month is usually celebrated in February, the fictitious variety show host celebrates African-American icons and takes a look back at memorable moments from his long-running (but also fictitious) series "Sherman's Showcase." Viewers who really enjoy Sherman's Black History Month special can hop over to IFC immediately after AMC's broadcast of the one-hour special to watch the whole thing again.
It makes sense that "Sherman's Showcase" would come out with a Black History Month special since it's been self-dubbed "the blackest show in the history of television." In an official news release for the upcoming program, the show's co-creators, Salahuddin and Diallo Riddle ("Marlon"), joked that the fictitious host "needed a little extra time to get everything just right."
IFC executive Blake Callaway obviously has faith that the dynamic duo will deliver with the special.
"Who decided that black history only gets one month, and a cold one at that," Callaway said. "We can't wait to see what Diallo and Bashir have created to kick off the summer. This one-hour spectacular will celebrate black excellence no matter what month it airs."
The summer "Sherman's Showcase" special will honor legendary African-American figures both past and present with the help of some special guest stars from the worlds of film, television, sports and music. John Legend ("The Voice"), who is also an executive producer for "Sherman's Showcase," will appear alongside Sherman. Rapper Phonte Coleman is also set to appear. He's already familiar to the show's cast and crew, having worked on the hilarious parody songs featured in Season 1. He won't be the only rapper to guest star. Rapper and activist Vic Mensa will make an appearance in the special as well.
As for stars of film and television, comedian and actor Lil Rel Howery ("Rel") has been tapped to guest star in the special, too. Actor Michael Ealy ("Stumptown") makes an appearance in the special also, as does actress Bresha Webb ("Marlon"). Tyrin Turner, who rose to fame as the star of the 1993 film "Menace II Society," will guest star. Viewers will also catch a glimpse of director and actor Mario Van Peebles ("All My Children").
Other famous faces get in on the action, too. Reality TV stars Tom Sandoval and Tom Schwartz from "Vanderpump Rules" guest star. Sports journalist Jemele Hill will be featured in Sherman's Black History Month special. Real-life TV show host Terrence J, known for his work on the video countdown show "106 & Park," will make an appearance.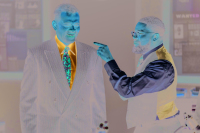 Mario Van Peebles and Lil Rel Howery in "Sherman's Showcase"
"Sherman's Showcase: Black History Month Special" will even feature animated versions of Questlove and Black Thought of The Roots fame.
The creators will add some of the show's trademark sketch comedy into the mix by poking fun at superheroes, vampires and period dramas. The program will also include a reimagining of the cult hit movie "The Last Dragon" (1985).
The summer special will give fans of "Sherman's Showcase" something to look forward to where the show's future seems to be up in the air. According to an article on deadline.com, AMC executive Sarah Barnett indicated that the network might be open to a second season of the sketch comedy. However, with a global pandemic currently throwing production schedules into chaos across the industry, who knows what will happen.
While there are no guarantees, audience reaction to the series should give fans hope. Employing a unique mix of mockumentary and show-within-a-show elements, "Sherman's Showcase" has been a huge hit for original broadcaster IFC since its premiere last July. In the sketch comedy show, Sherman guides viewers through the best moments from 47 seasons of his legendary variety show, which smacks of real-life hits such as "Soul Train," "American Bandstand" and "Solid Gold," complete with groovy psychedelic imagery and diva disco dancers. The eight-episode series garnered favorable reviews on both popular review aggregator sites Metacritic, where it sits at a 76% approval rating, and Rotten Tomatoes, where it has scored an astounding 100% approval rating.
The show's success shouldn't come as too much of a surprise given its talented creators. Salahuddin and writing partner Riddle are both Harvard educated. After their web series captured the attention of "In Living Color" alum David Alan Grier, they were hired to write for his series "Chocolate News" before being recruited to the writing staff of NBC's "Late Night With Jimmy Fallon." They went on to create the sitcom "South Side" for Comedy Central, which premiered in July 2019, the same month that "Sherman's Showcase" premiered on IFC.
There's no doubt that Riddle, Salahuddin and Sherman are hot right now. Watch as Sherman heats up the summer once again when he delves into African-American history in "Sherman's Showcase: Black History Month Special," premiering Friday, June 19, on AMC and IFC.