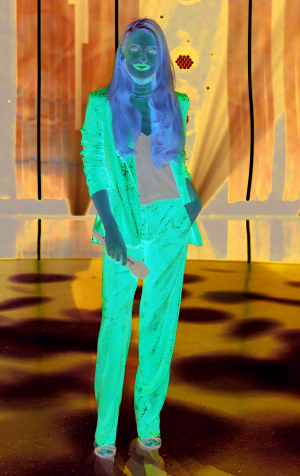 Cat Deeley hosts Season 17 of "So You Think You Can Dance"
Few TV shows make viewers want to get up off the couch and try out some new moves quite like "So You Think You Can Dance." Luckily for fans of the hit Fox competition series, Season 17 premieres Wednesday, May 18, after nearly two and a half years on hiatus to keep the cast and contestants safe from exposure during the coronavirus pandemic.
With a new season comes some new judges, too. Joining the judging panel for the first time are two small-screen dance superstars: "Glee" star and triple-threat talent Matthew Morrison, and "Dance Moms" alum JoJo Siwa (also a role model to a generation of bow-clad kids).
Rounding out the panel for a second season is iconic "SYTYCD" Season 4 runner-up and "Ellen Show" DJ Stephen "tWitch" Boss.
Another familiar face returning for Season 17 is the series' long-standing host, Cat Deeley. Emmy-nominated five times for her hosting duties on the show, Deeley became a household name in the U.K. for hosting the British singing competition series "Stars in Their Eyes" in 2003. She later traveled stateside to join "SYTYCD" as the host of its second season in 2006.
If you've been out of the "SYTYCD" loop, it mirrors other talent competition series "American Idol" and "America's Got Talent" in construction, but with a more rug-cutting approach. The judging panel sees dancers from across the country at open audition stops in several cities, where they select the best dancers for callbacks. The dancers must then demonstrate their core dance skills in order to make the cut in each round as the show progresses.
While the lucky contestants made it to the big stage in Las Vegas in previous seasons, the selected will now be sent to Hollywood instead. There they will perform a new style of choreography live each week in duets and solos, relying on audience votes and judge opinion to move on in the competition.
Following weeks of grueling training and performance, each season wraps up with an elaborate finale featuring encores of the season's most memorable routines, the dancers' final performances and, of course, the crowning of that year's "SYTYCD" winner.
Fans looking for a sneak peek of what's ahead during this season of "SYTYCD" might be disappointed to learn that Fox has revealed precious little of what is to come. Despite a news release in early April, viewers must still await the action for answers.
That said, Fox did share that "the upcoming season will feature highly skilled dancers between the ages of 18 and 30, showcasing their talents in various dance styles, including contemporary, tap, hip-hop, ballroom, animation, breaking and more. Those who are selected to move on to the "SYTYCD" studio will work with world-renowned choreographers and compete each week in a variety of styles, with brand-new twists and turns introduced into the competition."
Cat Deeley, Bailey Munoz and Mariah Russell from "So You Think You Can Dance"
As one of the most fan-fueled shows on TV, it only makes sense that "So You Think You Can Dance Live!" is also immensely popular. Tours of this kind can support 40 stops across America, as did its 2019 tour when Season 16's Top 10 — including winner Bailey Munoz and runner-up Mariah Russell — hit the road with Season 7 winner Lauren Froderman and Season 9 runner-up Cyrus "Glitch" Spencer.
While the steps are admittedly one of the most memorable parts of the show, fans have also attributed a few familiar faces to the series' brand as well. While Deeley, as host, has racked up a lot of face time on camera, series creator and longtime judge Nigel Lythgoe ("American Idol") gives his fellow Brit a run for her money in this department. Sadly, Season 17 marks the first time Lythgoe, who has served on the judging panel each season since the competition's first (over 15 years ago), won't be returning to his seat behind the panel desk.
While the creator is sad to be leaving, he didn't appear to hold any grudges when he took to Twitter to announce the producers' decision.
"I am so thrilled that America's young aspiring dance talent will get to work with some of our greatest creative choreographers," Lythgoe wrote. "On a personally sad note, I have not been asked to be on the judging panel this season." To lighten the mood, the 72-year-old added, "I don't know who will be saying 'Cue Music,' but I wish them well."
While Lythgoe will be missed as a mainstay of "SYTYCD," this is not the first time that the panel has had a change-up.
Following the departure of the early permanent judge, the unforgettably enthusiastic ballroom champion Mary Murphy in 2015, her spot on the panel has been filled by celebrity judges such as seasoned "American Idol" judge and pop sensation Paula Abdul, "High School Musical" (2006) star Vanessa Hudgens and legendary Canadian choreographer and dancer Laurieann Gibson ("Honey," 2003).
Lace up your dancing shoes and get in position — a brand-new season of "So You Think You Can Dance" premieres Wednesday, May 18, on Fox.