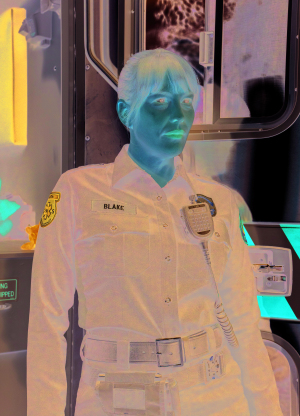 Liv Tyler as seen in "9-1-1: Lone Star"
Stars out: Following the pandemic shutdown, some TV series have resumed production under strict new health and safety guidelines, including frequent testing and the creation of zones to facilitate physical distancing.
While those measures can ensure safety on the set, they don't have any bearing on international travel restrictions and any associated risks. That appears to be the big reason actress Liv Tyler has opted out of a second season of "9-1-1: Lone Star."
The Fox series films in Los Angeles, but Tyler, who currently resides in the United Kingdom with fiancé Dave Gardner and their blended family, has grown increasingly worried over the travel required for her role in the show. Sources say the actress, concerned about traveling back and forth during the pandemic, reportedly approached producers over the summer to discuss a possible exit. It's a rather unexpected move given her multi-year contract, but it appears everyone is OK with that decision.
"What a thrill it was having a movie star of Liv Tyler's stature to help us launch the first season of '911: Lone Star,'" series showrunner Tim Minear, in a statement to Deadline, said. "We loved working with Liv and will be forever indebted to her for her haunting, powerful portrayal of Michelle Blake. While we were able to tell a complete chapter in Michelle's story, as with Connie Britton on our mothership, we also feel like there are more stories to be told. The door here will always be open for a return."
Tyler isn't the only lead to leave their series in recent weeks. It was announced that Alan Arkin won't be returning for the third and final season of Netflix's "The Kominsky Method," though it appears that particular decision was made before the pandemic hit.
Disney's Fury: Variety was the first to break the news that Disney is working on a new Marvel series and that film star Samuel L. Jackson ("Pulp Fiction," 1994) may be involved.
Disney remains tight-lipped about the project so there aren't any plot details to share. But according to Variety's "multiple" sources, Jackson would reprise his role as Nick Fury, director of S.H.I.E.L.D. and the founder of the Avengers initiative. Kyle Bradstreet ("Mr. Robot") is also attached as writer and executive producer.
If it does land a series order, it would be Jackson's first TV role as a series regular. It's also a role that Jackson knows well; his monocular character first appeared in a post-credits scene in the 2008 "Iron Man" film and has since popped up in multiple films within the Marvel Cinematic Universe (MCU), including — spoiler alert — 2019's "Spider-Man: Far From Home."
Jackson signed a nine-film contract to play the character, who has also recurred in ABC's "Agents of S.H.I.E.L.D." So, it stands to reason we haven't seen the last of Nick Fury, even if the series doesn't pan out (though that doesn't seem likely).
It's not the only big, splashy MCU TV production in the works at Disney . The miniseries "WandaVision" is due to be released soon, while "The Falcon and Winter Soldier" and "Loki" are due out in 2021. Others include "She-Hulk," "Hawkeye," "Ms. Marvel" and "Moon Knight."
Renewed and recast: It's hard to believe it's been 21 years since "Family Guy" first premiered on Fox. The animated series is a cult favorite, though it took a while to reach that status — Fox famously cancelled the series in 2002 and sold the rights to Cartoon Network before giving it another shot in 2005.
It has since garnered a number of award nominations. But this January, news of series creator Seth MacFarlane's mega deal with NBCUniversal had fans worrying about the series' future at Fox. Luckily, it doesn't look like it's going anywhere anytime soon: Fox has officially renewed both "Family Guy," and "Bob's Burgers," too, for two more seasons.
There's also been a big casting change. Since 1999, Mike Henry has been the voice of Cleveland Brown, Peter Griffin's neighbor on "Family Guy" and the animated star of the spinoff series "The Cleveland Show." But this past June, Henry, who is white, announced he was stepping down from voicing the Black character beyond Season 18 as part of a movement to end whitewashing in animation. "I love this character," explained Henry, "but persons of color should play characters of color."
Henry is still sticking around as a voice cast series regular — he's also the voice of Bruce the Performance Artist and several more characters. But for Season 19, Arif Zahir, whose impressions of Cleveland Brown have made him a YouTube star, will be the voice of Cleveland.
"Firstly, I'm eternally grateful to have received this once-in-a-lifetime opportunity," Zahir said when the casting was announced. "When I heard that Mike Henry was stepping down from the role of Cleveland Brown — my favorite cartoon character of all time — I was shocked and saddened, assuming we'd never see him again. When I learned I would get to take over the role? Overabundant gratitude. To Mike, you created something truly special, and I promise I will do my absolute best to honor your legacy. To Rich Appel, Alec Sulkin and Seth MacFarlane, thank you for this incredible gift. And to the millions of fans who love this show, I promise not to let you down."