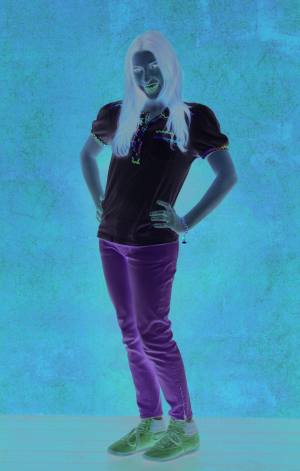 Eden Sher as seen in "The Middle"
Spinoff spinoff in the city: The Hecks aren't finished with television yet. "The Middle," the sitcom about a kooky, lower middle-class family living in small-town Indiana, wrapped up last spring after nine hilarious seasons, but in the age of spinoffs and reboots, a successful show is never really dead.
It's no surprise, then, that a spinoff is being developed. Early groundwork on a series that's tentatively titled "Sue Sue in the City" (yes, you read that right) is underway at ABC with an eye on a 2019 premiere date. Eden Sher ("Veronica Mars," 2014) headlines the cast in the titular role as Sue Sue Heck -- usually shortened to just Sue -- a few years after the last season of "The Middle," returning to the role that she played for all nine seasons.
Sue was always an optimist, and that won't have changed now that she's in her 20s. While "The Middle" was about life in a small Midwestern town, "Sue Sue in the City" will thrust the young woman into the bright lights and fast pace of life in Chicago, where she'll navigate the twin trials of juggling both her career at a luxury hotel and her personal life in the unfamiliar concrete landscape.
Luckily, she won't be facing it alone. Brock Ciarlelli ("Valet"), who played Sue's best friend, Brad, in "The Middle," is also headed to Chicago and will be a series regular. Chris Diamantopoulos ("Silicon Valley") has signed up to play the hotel's owner and Sue's boss, Finesse Mitchell ("A.N.T. Farm"), as a bartender and one of Sue's co-workers and Kimberley Crossman (SMILF) as one of the hotel's chefs who's recovering from a bad breakup.
Details and casting are still in the works at this stage -- even the show's title isn't finalized -- but with the critical and audience acclaim that "The Middle" raked in during its run, it's no surprise that ABC is trying to recapture some of the magic that made that show click.
Happy birthday, Mickey: Mickey Mouse sure does look great for his age. This year marks the 90th anniversary of the iconic Disney character's debut in "Steamboat Willy" (1928), and the mouse doesn't look like he's aged a day since.
Disney-owned ABC gives Mickey the birthday party he deserves in "Mickey's 90th Spectacular," a special two-hour television event on Sunday, Nov. 4. Coming from the Shrine Auditorium in Los Angeles, Mickey Mouse fans can expect never-before-seen short films and clips, touching tributes from celebrities and musical performances from some of the world's biggest recording artists.
That's quite the extravaganza for a cartoon character, but Mickey is more than just an animated mouse -- he's an American cultural icon, and when someone with his level of star power has a 90th birthday, you can expect things to get pretty spectacular. Among the stars coming out to pay tribute are Kristen Bell ("Frozen," 2013), Tony Hale ("Arrested Development"), Broadway star Leslie Odom Jr. ("Smash"), Josh Gad ("The Wedding Ringer," 2015), Anna Camp ("Pitch Perfect," 2012) and Miles Brown ("Black-ish").
Of course, there are musical performances planned, too. Tune in to see Latin music superstar Luis Fonsi sing his new single, Tori Kelly perform the Oscar-nominated song "Colors of the Wind" from "Pocahontas" (1995), and Meghan Trainor, Josh Groban and Zac Brown Band perform, among others.
As a bonus treat, original Mouseketeers Sharon Baird ("Land of the Lost") and Bobby Burgess ("The Lawrence Welk Show") will also make appearances. There's just so much that's packed into the two-hour celebration, and Mickey Mouse fans young and old won't want to miss "Mickey's 90th Spectacular," airing Sunday, Nov. 4, on ABC.
Back to the 'Lodge': No surprise here: AMC is sticking with its critically acclaimed freshman series. "Lodge 49" recently wrapped up its first season on the cable network, but before the finale had even aired, the green light had been given to move ahead with a second outing.
The comedy-drama wasn't a huge ratings success, but its first season drew tons of love from the critics and is generating plenty of awards buzz. Wyatt Russell ("Everybody Wants Some!!," 2016) leads the cast as Sean "Dud" Dudley, a down-on-his-luck ex-surfer who ends up joining a secretive fraternal order after his father's death, with Sonya Cassidy ("The Fifth Estate," 2013) starring as his sister Liz and Brent Jennings ("Moneyball," 2011) as Ernie, a Luminous Knight with the Order of the Lynx.
The first season's 10 episodes were definitely a surreal experience, dealing with death, loyalty and the bonds that bind us all. "'Lodge 49' tells a funny, wise and meaningful story that immediately and deeply resonated with critics and viewers alike," AMC president of programming David Madden said when announcing the sophomore season.
Watch for the quirky dramedy "Lodge 49" to return for a second outing sometime next TV season.