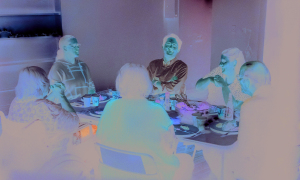 Amy Schumer, Steven Yeun, Beanie Feldstein, Richard Jenkins, Jayne Houdyshell and June Squibb in "The Humans"
For many, Thanksgiving is a cherished holiday to spend with loved ones. It can be joyful for some, but not every family's Thanksgiving looks like a Norman Rockwell painting. A new film takes a hauntingly dark look at a family struggling with demons, and it's coming to prime time.
When three generations of the Blake family come together to celebrate Thanksgiving in a derelict New York rental, an atmosphere of dread hangs over the holiday in "The Humans," premiering Wednesday, Nov. 24, on Showtime — the same day it's released in theaters. A far cry from traditional feel-good Thanksgiving fare, the haunting film is based on Stephen Karam's ("Speech & Debate," 2017) acclaimed Broadway play of the same name.
As the plot unfolds, Erik Blake (Richard Jenkins, "Six Feet Under") and family head to New York City to visit his daughter, Brigid (Beanie Feldstein, "Booksmart," 2019), and her boyfriend, Richard (Steven Yeun, "Minari," 2020), who've just moved into a rundown Manhattan duplex. Erik is accompanied by his wife, Deidre (Jayne Houdyshell, "Little Women," 2019), and his Alzheimer's-stricken mother, Momo (June Squib, "Nebraska," 2013). Brigid's sister, Aimee (Amy Schumer, "Inside Amy Schumer"), joins as well.
While the Pennsylvania family settles in to make the most of the holiday, it's soon apparent that they are all unsettled. Dark undertones hang over Thanksgiving as they deal with issues many families face, from Momo's declining health to economic struggles and differences of opinion over politics and religion. As darkness falls, the story blends family drama with elements of horror.
The premise may seem like an odd choice to kick off the holiday weekend, but if the popularity of the play is any indication, "The Humans" could very well be a big hit.
The play premiered in Chicago in 2014 and, following an off-Broadway engagement in 2016, debuted on Broadway in 2016. A finalist for the 2016 Pulitzer Prize for Drama and winner of the 2016 Tony Award for Best Play, the stage version was praised for its lighting, music and sound design.
There are bound to be some differences between stage and screen, but so far audiences have enjoyed both. The movie debuted at the 2021 Toronto International Film Festival in September to positive reviews and went on to screen at a number of other festivals — including those in Austin, San Diego and Nashville — ahead of its TV and big-screen rollout this week.
And Karam isn't the only common thread between the film and the play: Houdyshell portrayed Diedre in both the off-Broadway and Broadway productions, earning numerous accolades for her performance, including a Tony Award for Featured Actress in a Play, a Drama Desk Award for Outstanding Ensemble Performance, and an Obie Award for Performance. Those who've not had the good fortune to see Houdyshell in action on stage may remember her as housekeeper Hannah in the 2019 film "Little Women" or as the Widow in ABC's "Quantico."
Richard Jenkins and Jayne Houdyshell in "The Humans"
The rest of the cast may be new to "The Humans," but they are also all acclaimed actors.
Jenkins starred in all five seasons of HBO's "Six Feet Under" as deceased patriarch Nathaniel Fisher, a role that earned him and his colleagues a Screen Actors Guild Award for Outstanding Performance by an Ensemble in a Drama Series. He won an Emmy for his work as Henry Kitteridge in the miniseries "Olive Kitteridge," and has been nominated for two Oscars -- one for "The Visitor" (2007) and one for "The Shape of Water" (2017).
Amy Schumer also likely needs very little introduction for TV fans. The outspoken comedian was a contestant on NBC's "Last Comic Standing" and starred in her own series, "Inside Amy Schumer," which earned five Primetime Emmy nominations, winning for Outstanding Sketch Series in 2015. She made her film debut in "Trainwreck" (2015), which she also wrote. That movie earned her both Golden Globe Award and Writers Guild of America Award nominations. She was also nominated for a Tony for her role in Broadway's "Meteor Shower" in 2018.
Feldstein, known for "Neighbors 2: Sorority Rising" (2016), "Lady Bird" (2017) and TV series "What We Do in the Shadows" and "American Crime Story," earned a Golden Globe nomination for Best Actress -- Motion Picture Comedy or Musical for "Booksmart" (2019). She also starred in the Broadway musical "Hello, Dolly!"
Yeun rose to fame as Glenn in the hit AMC horror drama "The Walking Dead" but also earned a National Society of Film Critics Award for his supporting role as Ben in "Burning" (2018). His starring turn in the critically acclaimed film "Minari" (2020) earned him an Academy Award nod for Best Actor, making him the first Asian American actor to receive one.
Squibb, meanwhile, has appeared in numerous stage productions both on and off Broadway throughout the years, including 1968's Tony-nominated musical "The Happy Time." Her role in 2013's black-and-white dramedy "Nebraska" earned her both a Golden Globe nod and an Academy Award nomination. She also starred in NBC's "Good Girls" and the Disney movie "Godmothered" (2020).
In contrast to so many feel-good holiday films, "The Humans" may evoke feelings of dread, but it may be a good choice for those looking to break with tradition and watch something a little daring this Thanksgiving. As the Blakes share their joys and sorrows, viewers may recognize their own families struggling to cope with a changing world. If nothing else, the haunting tale is poised to enthrall fans of stage and screen.
Don't miss the premiere of "The Humans," airing Wednesday, Nov. 24, on Showtime.