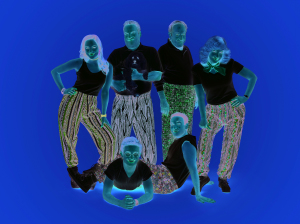 Hayley Orrantia, Jeff Garlin, Sean Giambrone, Troy Gentile, George Segal and Wendi McLendon-Covey star in "The Goldbergs"
Wouldn't it be great to travel back in time? While time travel may not be possible (yet!), those wistful for the past often turn to television for a nostalgic look back. Take heart, '80s fans — it's time to revisit the totally radical days of big hair, mixtapes and neon everything.
Sean Giambrone ("Kim Possible," 2019) returns as teenager and aspiring filmmaker Adam Goldberg, who shares adventures with his wacky, dysfunctional family in the Season 8 premiere of "The Goldbergs," airing Wednesday, Oct. 21, on ABC. Inspired by the real life of creator Adam F. Goldberg, the comedy is narrated by Patton Oswalt ("The King of Queens") as "adult Adam" in present day, à la Daniel Stern ("Home Alone," 1990) as an "adult Kevin" narrating the '80s TV classic, "The Wonder Years."
Just as "The Wonder Years" whisked TV viewers away to the late 1960s and early 1970s, "The Goldbergs" transports viewers to an era known for breakdancing, New Wave music and some pretty extreme fashions. Through Adam's eyes, fans get to know his family and friends as he faces all sorts of adolescent milestones.
This season, fan favorite Wendi McLendon-Covey ("Bridesmaids," 2011) returns as family matriarch Beverly, who is so overzealously overprotective that she's been dubbed "Smother" by her children. In contrast, Jeff Garlin ("Curb Your Enthusiasm") portrays gruff patriarch Murray, who often calls his kids morons. Adam's overconfident yet goofy older brother, Barry, a character inspired by the real-life Goldberg's brother of the same name, is played by Troy Gentile ("Hotel for Dogs," 2009). Hayley Orrantia ("The X Factor") plays the eldest of the Goldberg siblings, Erica, a sarcastic, rebellious musician. Entertainment industry veteran George Segal ("Who's Afraid of Virginia Woolf," 1966) rounds out the family as Beverly's father, Pops, an eccentric widower who often doles out sage advice to his grandkids.
As in other seasons of the show, Season 8 will feature plenty of '80s nostalgia. The comedy is famous for incorporating memorable '80s songs, movies, fashions and more, much to the delight of its fans. In July, news broke that the upcoming season would kick off with a nod to the 1980 classic parody film "Airplane!" Fans are surely in for a treat, as the cast has a reputation for rocking such tributes, having riffed on iconic '80s movies such as "Risky Business" (1983), "National Lampoon's Vacation" (1983), "Sixteen Candles" (1984), "The Breakfast Club" (1985) and "Weird Science" (1985). As reported on ew.com, during the Comic-Con@Home panel, "The Goldbergs'" executive producer Doug Robinson referred to the "Airplane!" episode, saying: "The only thing crazier than having dinner with the Goldbergs is taking an airplane ride with the Goldbergs."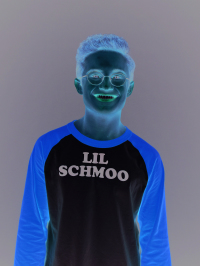 Sean Giambrone stars in "The Goldbergs"
It sounds like Season 8 will be full of other funny Goldberg moments, too. This time around, Beverly is faced with an almost-empty nest as Erica and Barry are off to college. That leaves her to throw herself into meddling in the life of her only "schmoopie" left at home, Adam. For his part, Adam will continue to deal with social anxieties as a nerdy upperclassman, run afoul of bullies and maybe even get a shot at romance. Meanwhile, Barry sets out to reinvent himself at college as he tries to move on from his love, Lainey (AJ Michalka, "Schooled"), and Erica decides to actually try to succeed in school now that her rock star dreams have been dashed. Luckily, her goofy boyfriend, Geoff (Sam Lerner, "Truth of Dare," 2018), is around for support. All the while, now that his kids are growing up, Murray begins to realize that perhaps he should have tried harder as a father.
There should be no shortage of Goldberg antics for viewers to enjoy this season, but it's a wonder there's an eighth season at all. Like just about every other television production in North America, the show was forced to stop filming in March due to the COVID-19 pandemic. That led to a casting shakeup as Kelli Berglund ("Lab Rats"), who joined the cast in Season 7 as Erica's friend Ren, had committed to other another major project and couldn't continue filming "The Goldbergs" when it booted up again. The part had to be recast, so Carrie Wampler ("Big Little Lies") will play Ren in Season 8.
As the old saying goes, the show must go on, and, luckily, "The Goldbergs" is safe for another season, unlike its spinoff, "Schooled." Set in the 1990s and featuring Michalka's Lainey as the school's new music teacher, "Schooled" unfortunately failed to grab audiences the way its predecessor did and was cancelled in May after two seasons.
It's a fate that might have befallen "The Goldbergs" when it first started. While the show wasn't initially well received by many critics when it debuted in 2013, it's grown in popularity over the years and now ranks as one of the most successful family comedies in prime time. The ratings have slightly declined over the past seven seasons, but it's held fairly steady, averaging 5.31 million viewers in Season 7 compared to 6.2 million in the first season.
As rerun-weary TV fans clamor for fresh comedy, the show just might have a banner year. Don't miss back-to-back new episodes as the cast spoofs "Airplane!" in the Season 8 premiere of "The Goldbergs," airing Wednesday, Oct. 21, on ABC.