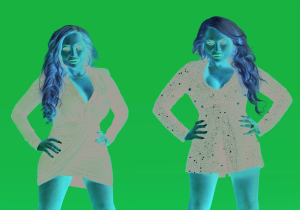 Stacey and Darcey Silva from "Darcey & Stacey"
Over the top in life, fashion and love, TLC's favorite twins are back and ready to share more of their ludicrous lives in a second season. The network's hit reality TV show "Darcey & Stacey" kicks off once again on Monday, July 19, to continue the saga of the sisters' lives near their family home in Middletown, Connecticut.
Filled with all the twists and turns that accompany a set of attractive middle-age twins living life to the fullest, the 90 Day franchise spinoff brings more to viewers than initially meets the eye.
After appearing in "90 Day Fiancé: Before the 90 Days,"a show that follows long-distance couples in the months after meeting online, sisters Darcey and Stacey Silva instantly became fan favorites. While "90 Days" didn't work out so well for Darcey, she found some success in Season 1 of "Darcey & Stacey."
Last season, Darcey's new flame, Bulgarian beau Georgi Rusev, swept her off her feet in Manhattan's Washington Square Park. Despite learning he was still married, Darcey wanted to make things work with Georgi — whatever the cost. Shortly after moving in together near Darcey's home in Connecticut, however, the cost appeared to increase astronomically as the pair navigated a flurry of exes, divorce meetings and quarantine meet-ups.
While all the marriage drama was brewing around her sister, Stacey spent the majority of Season 1 navigating her own complicated relationship with Florian Sukaj, whom she did meet on "90 Days." And while the scandal enshrouding that relationship could spark a spinoff of its own, Season 1 saw the loving pair get hitched. More than that, the couple is still married! Not bad for a reality-TV relationship.
It isn't all sunshine and roses, however. The Season 2 trailer teases plenty more moments that encompass all manner of wacky antics, from the twins saging their hair extensions to rid them of any negative energy to a laundry list of plastic surgery that includes a "breast reduction, a 'Barbie nose,' a lip lift and new veneers." (Those curious even get a sneak peek at what those teeth actually look like underneath the existing veneers.)
Now that the heaviest pandemic-based regulations have relaxed, the "twin queens" make their way to Turkey to take part in the spa day of their dreams; no doubt a welcome relaxation break for Stacey, who is concerned that hubby Florian might leave her if she is unable to conceive — a likely possibility, she reminds viewers, as she is currently 46 years old. This concern is at the heart of the unscripted series' second season, often leading Stacey (and her sister) to tears.
And although TLC is remaining fairly tight-lipped about the extent to which viewers will be a part of Stacey and Florian's fertility struggles, if the network stays true to its mission and precedent, audiences are sure to learn more about the nightmare that plagues nearly one-third of American couples annually as they try to conceive a child together.
Stacey Silva and Florian Sukaj from Season 1 of "Darcey & Stacey"
While this may seem like relatively heavy fodder for an unscripted reality show centering on two fashion-obsessed business owners in their mid-40s (Darcey and Stacey co-own House of Eleven, a trendy clothing brand based in Los Angeles), this show, like its "90 Day" predecessor, is no stranger to confronting the harder aspects of life.
In fact, one of "Darcey & Stacey's" most admirable qualities is that the twins don't always show the best side of their lives (or, indeed, themselves), even though they very well could. Their lives aren't perfect. Their husbands aren't perfect. They slip up as parents, as sisters and in their relationships, consistently showing their following that money truly doesn't buy happiness — though it certainly can make the journey a little bit prettier.
TLC has a history of presenting audiences with stories of real people. Often shining the spotlight on people living with mental illness, battling eating disorders or struggling with the tendency to hoard, the network bridges the gap between the things we see every day and the unbelievable.
Between the love drama, sisterly squabbles and money spent on cosmetic enhancements, "Darcey & Stacey" has found its home on TLC, a channel founded in the 1970s and branded as "The Learning Channel." So, in keeping with the brand, what's the lesson in "Darcey & Stacey"? Family first. Always.
Darcey and Stacey live for their family and each other. With four kids between them — Darcey has two daughters, Aniko and Aspen, with her first husband, and Stacey has two sons, Parker and Mateo, with hers — the twins stand up for one another (as is evidenced in Season 2 when Stacey confronts Georgi about his gold-digging) and support each other throughout all aspects of their joint life, business and motherhood.
Don't miss a second of "Darcey & Stacey" when Season 2 premieres Monday, July 19, on TLC.