Alicia Keys hosts the 2020 Grammy Awards
There's something for everyone in the televised ceremonies that populate awards season. From boozy Golden Globes banter to the Emmys' quirky hosting history and BAFTAs charming decorum, each of the major awards shows has its own way of celebrating its particular craft and making the show rewarding and accessible to its millions of viewers. The ratings vary year to year, and although the Academy Awards tends to walk away from the season as the most-watched awards show, the Grammy Awards is a close second.
I would argue that the Grammys is the most exciting, dazzling and entertaining of all awards shows, and you can watch this year's presentation when it airs Sunday, Jan. 26, on CBS. According to Nielsen, it's also the one with the most social media presence and engagement, which is to say it's the one that the general public is the most interested and invested in. Accounting for overall declining ratings and constant discourse about the significance and repute of awards shows, the Grammys has withstood brutal criticism and ridicule over the years, but it has managed to retain a committed, young and vocal audience. In fact, the intense reactions of fans to changes and decisions made by those who run the awards just goes to show you how much these fans truly care.
It all boils down to the idea that songs can touch people and connect them to each other far more immediately than film or television. Music is as unifying as it is personal, so pitting genres and artists against each other can elicit strong reactions. As returning host and 15-time Grammy winner Alicia Keys said in her 2019 opening monologue: "Music is what we cry to, it's what we march to, it's what we rock to, it's what we make love to. It's our shared global language."
This year's Grammys ceremony is gearing up to be an interesting iteration, with the three most-nominated acts adding youth and diversity to the night, qualities the Recording Academy (the Grammys' voting body) has often been criticized for lacking. Lizzo, a black, plus-sized, flute-playing vocalist and rapper leads the pack with eight nominations; Billie Eilish, an 18-year-old singer-songwriter with extremely modern, minimalist pop productions earned six; and Lil Nas X, a black, gay, country-rap fusion sensation matches Eilish's six nominations. All three are nominated in at least three of the four main categories of the night: Album of the Year, Song of the Year, Best New Artist and Record of the Year. Further, all three of these artists are quite new, having emerged on the scene within the past year or two.
The fact that this is the snapshot chosen to represent the past year in the charts is remarkable, especially considering the backlash the 2019 Grammy Awards received for ignoring artists of color and continuing to favor more traditional-sounding tracks over the newer generation's tastes. That being said, the Recording Academy is giving out Grammys in 84 different categories, so if none of the major frontrunners rings a bell, rest assured there will be a performance or a nod directed to your genre of interest.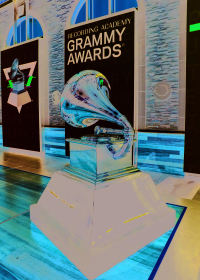 A Grammy award
Other notable nominees include Beyoncé, Bon Iver, Lana del Rey, Gary Clark Jr., Vampire Weekend, J. Cole, Thom Yorke, Barbra Streisand, Cardi B, Miranda Lambert and J. Balvin. Nominated artists represent a wide range of genres, such as country, reggaeton, traditional pop, rap and film soundtracks.
With a long-overdue balanced mixture of nominees that represent a variety of backgrounds and both old and new generations, the 62nd Annual Grammy Awards also boasts an impressive roster of performers for the night -- these performances are the biggest draw for viewers. What makes the Grammys so special is the fact that, unlike the Oscars, Golden Globes, etc., this ceremony can properly showcase the talent it intends to honor. It's not just three hours of quick clips and acceptance speeches, it's a legitimate concert from beginning to end.
Emcee Keys only elevates the showmanship we've come to expect from the Grammys. Her 2019 hosting duties included a performance that had the musical prodigy playing two pianos at once, covering songs that spanned the 1970s to the 2010s, all with seemingly minimal effort. Keys is an undeniably talented artist, whose experience as a musician not only guarantees impressive hosting segments but provides a calming presence amid all of the musical chaos. Recording Academy president Deborah Dugan said about Keys' hosting style: "She brings you in, and has you experience the Grammys through a creator's mind."
Awards shows will never please everyone. Awarding art is a questionable practice in and of itself, and in a time when audiences can vocalize their thoughts and feelings more loudly than ever before, it's almost always a spirited event. The 62nd Annual Grammy Awards ceremony airs Sunday, Jan. 26, on CBS.