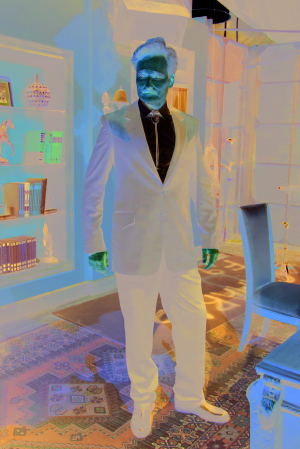 Conan O'Brien as seen in "Conan"
Showdown in Conan Town: Conan O'Brien may be good at picking a fight, but he's also good at following through. TBS's "Conan" is on hiatus for the time being, but that hasn't stopped the late-night host from taking his crew to the small city in Japan that he sparked a tongue-in-cheek international incident with a few months back.
"Conan Without Borders: Japan," a special documenting the comedian's latest international trip, airs Wednesday, Nov. 28. This is no vacation for Conan and his crew, though -- he's a man on a mission, and that mission is getting what he feels he's owed from a town that he claims has been profiting from his moniker.
The town in question is Hokuei, and back in August the comedian started harping on his show about the fact that it promotes itself as "Conan Town." Eventually, the late-night host issued a series of demands to the town's mayor, including a payout of three trillion Yen, and after a few days, the mayor actually responded with his own list of demands.
Of course, it was all very tongue-in-cheek -- Conan Town isn't named after Conan O'Brien at all. Its namesake is actually a popular manga (Japanese comic) character whose creator was born in the area, and by all accounts, the people of Hokuei took the comedian's attacks in stride and embraced him warmly during his September visit. He was even made honorary mayor for a day, and served 1000 hamburgers to the town's residents, fulfilling one of the demands that the town's mayor had issued.
For "Conan" fans, the one-hour special marks the end of an era. When the show returns in the new year it will be in a slimmed-down, 30-minute format with an increased focus on online content. Before then, though, the comedian is off to Japan to collect what he feels he's due. "Conan in Japan" airs Wednesday, Nov. 28, on TBS.
Speaking out: Leah Remini is back, and she's just as fired-up as ever. The former star of "The King of Queens" has spent the past few years investigating Scientology, and she's back with a third season of "Leah Remini: Scientology and the Aftermath," airing Tuesday, Nov. 27, on A&E.
The award-winning hit series features Remini, a former Scientologist, interviewing former church members about their experiences within the organization. Former church official Mike Rinder, who left the religion in 2007, serves as co-host.
The Church of Scientology, which was founded in the 1950s by author L. Ron Hubbard, has been dogged by controversy since its very beginning, with allegations of abuse being leveled against it by ex-members, including Remini herself. "Scientology and the Aftermath" aims to give a voice to those who have left the organization, and the third season also digs into a mystery that has worried outside observers for the past few years: the alleged disappearance of Shelly Miscavige, the wife of Scientology's leader David Miscavige.
Despite the nature of the material, and rebuttals by the church, "Scientology and the Aftermath" has been a hit with both audiences and critics. It won an Emmy Award for Outstanding Informational Series or Special in 2017, as well as a TCA Award for Outstanding Achievement in Reality Programming. A related one-episode special recently saw Remini and Rinder meeting with ex-members of the Jehovah's Witnesses to share their own painful stories.
Remini left the Church of Scientology in 2013, but she isn't keeping quiet about it. Her 2015 memoir "Troublemaker: Surviving Hollywood and Scientology" reached the top of the New York Times' Best Seller list, and led directly to the making of "Scientology and the Aftermath." The third season premieres Tuesday, Nov. 27, on A&E.
Bob's back: It's been more than two decades, but Bob Saget ("Fuller House") is returning to host "America's Funniest Home Videos" -- sort of. The comedian was the show's first host, from its genesis as a one-off TV special in 1989 until he stepped down in 1997, and now he's making his way back for a planned spinoff of the venerable series.
"Videos After Dark" is in the works at ABC, and meant to be an edgier and more adult-oriented home video series that will air later in the evening for a more mature audience. People familiar with Saget's work in the family-friendly sitcom "Full House" may be surprised by this, but as a standup comedian, he's well known for his raunchy and edgy sense of humor, making him the perfect fit for a more grown-up version of "AFV."
Fans of the classic "AFV" don't have to worry about "Videos After Dark" stealing its thunder. The classic series has been renewed for two more seasons, keeping it on the air until at least 2021. There's been no word on a premiere date for "Videos After Dark."