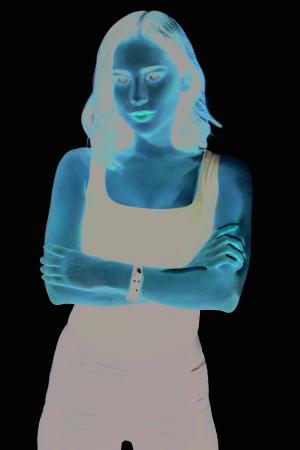 Priscilla Quintana stars in "Pandora"
In the 1960s, "Star Trek" forged an interstellar path in prime time, and science fiction series set in space have fascinated TV viewers ever since. As sci-fi fans prepare for a new slate of space-themed series this fall, one summer program has them sitting up and taking notice -- or rather notes -- as fresh-faced students train to defend Earth.
Priscilla Quintana ("Polaroid," 2019) stars as Jax, a young woman who attends Earth's Space Training Academy after she loses everything, in "Pandora," airing Tuesday, Aug. 13, on CW. Set in the year 2199, the series follows Jax and her fellow recruits as they learn to defend the galaxy from human and alien threats. All the while, she works to uncover secrets about her true identity and learn whether she's to be humanity's savior or the instrument of humankind's destruction.
The series was created by Mark A. Altman ("The Librarians") and Steven Kriozere ("NCIS"), and Altman serves as the show's head writer. While the futuristic post-apocalyptic setting for "Pandora" is very on-trend, Altman has insisted that it's more than just flashy eye candy. In a July interview with Space, he explained: "It's super important to me to use sci-fi as a lens to examine the world we live in through allegory and metaphor. So, we're dealing with religious evangelism, date rape on campus, corporate greed and free speech."
Tackling such heavy topics might seem daunting, but luckily the sci-fi series has assembled a talented crew both in front of and behind the camera. Quintana may be a relative newcomer, but she has earned a couple of high-profile credits so far. She appeared in the crime drama "Traffik" (2018) and the German horror film "Polaroid" (2019).
Her "Pandora" co-stars include Noah Huntley ("28 Days Later," 2002) as Jax's uncle, Prof. Donovan Osborn. The British actor got his start on the soap opera "Emmerdale" before hitting the big screen in such films as "The Chronicles of Narnia: The Lion, the Witch and the Wardrobe" (2005) and "Snow White and the Huntsman" (2012).
Oliver Dench portrays Osborn's teaching assistant, Xander Duvall. Dench's credits include the TV series "Ride," but he may be most famous for his connection to his great aunt, Oscar winner Dame Judi Dench ("Shakespeare in Love," 1998). In "Pandora," Duvall, who's also an intelligence agent, helps Jax investigate why an alien race killed her researcher parents.
Jax's fellow students at Earth's Space Training Academy offer viewers a diverse mix of sci-fi archetypes, played for the most part by newcomers like Quintana. Her roommate Delaney (Banita Sandhu, "October," 2018) is the show's "cyborg" character, having received cybernetic implants as a child. Ben Radcliffe ("Ransom") plays Ralen, the academy's only student of Zatarian descent, a race Delaney describes as "violent" and "treacherous." While academy recruit Thomas (Martin Bobb-Semple, "Free Rein," 2017) may look human, he possesses partial telepathic abilities inherited from his father. John Harlem Kim, who starred in TNT's "The Librarians" when Altman wrote for the series, portrays the academy's charming rogue, Greg. Australian actress Raechelle Banno ("Home and Away") appears as Atria, an Adari clone who's a refugee from a planet where she was considered property.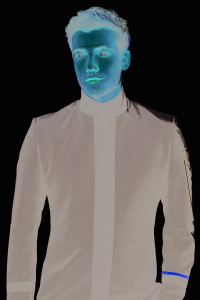 Oliver Dench as seen in "Pandora"
Filmed in Sofia, Bulgaria, "Pandora" attempts to tap into the love of all things space, but many critics and reviewers have compared the show to other CW series such as "Riverdale" and "Legacies" because of its "academy" setting, young cast and potential for various romantic entanglements. The new sci-fi series premiered on Tuesday, July 16, and drew a little over 700,000 viewers. Admittedly, "Pandora" is up against some stiff competition from the other major broadcast networks. ABC has the reality TV guilty pleasure "Bachelor in Paradise" in the same time-slot, while CBS has been airing rebroadcasts of the popular drama "NCIS." Fox has been drawing Tuesday night viewers with the high-stakes game show "Spin the Wheel."
However, all may not be lost for "Pandora." With years of experience in the television industry, Altman and his team may very well have more interesting things in their box of tricks. A former entertainment journalist, Altman produced a $30 million adaptation of the hit video game "DOA: Dead or Alive" (2006). He won the WGA Award for Best New Writer for his first film, "Free Enterprise" (1999), which starred William Shatner ("Star Trek") and Eric McCormack ("Will & Grace"). He's also the author of the "The Fifty-Year Mission: The Complete Uncensored, Unauthorized History of 'Star Trek,'" and subsequently produced "So Say We All," an oral history of "Battlestar Galactica." His experience makes him well poised to create a whole new universe of beloved sci-fi characters for "Pandora."
In addition to being the show's writer and creator alongside Kriozere, he serves as an executive producer. Other executive producers include Kriozere, Thomas P. Vitale ("Animal," 2014), Karine Martin ("Magic Beyond Words: The J.K. Rowling Story") and Chris Philip ("Departure").
Watch the adventure unfold in Altman's latest project as Jax learns more about her true identity in "Pandora," airing Tuesday, Aug. 13, on CW.