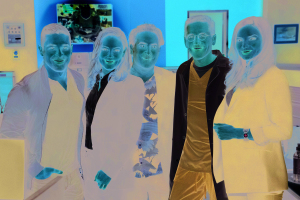 Wilmer Valderrama, Vanessa Lachey, Jason Antoon, Brian Dietzen and Katrina Law in "NCIS"
Crime never sleeps and neither do the agents who make up the Naval Criminal Investigative Service. Returning for its Season 20 premiere Monday, Sept. 19, "NCIS" debuts a crossover event with its sister series, "NCIS: Hawai'i," which follows with its own Season 2 premiere. The two-part crossover premiere airs on CBS.
The long-running police procedural currently stars "The Ranch" actor Wilmer Valderrama as Special Agent Nick Torres, Brian Dietzen ("Congratulations," 2012) as Dr. Jimmy Palmer and "Arrow" star Katrina Law as Special Agent Jessica Knight. Together they make up part of the Major Case Response Team for NCIS, the organization that investigates crimes involving members of the U.S. Navy and Marine Corps.
The original "NCIS" series is set in Washington, D.C., and has elicited spinoffs in several other Navy hubs, including Los Angeles, New Orleans and, of course, Hawaii.
The Pearl Harbor-set series is led by Vanessa Lachey ("BH90210") as Special Agent Jane Tennant. "Claws" actor Jason Antoon stars as cyber specialist Ernie Malik, Noah Mills ("The Falcon and the Winter Soldier") as Tennant's second-in-command, Special Agent Jesse Boone, and Alex Tarrant ("The Lord of the Rings: The Rings of Power") as new recruit Kai Holman.
"NCIS" also recently said goodbye to original cast member Mark Harmon ("Chicago Hope"), who had portrayed NCIS Supervisory Special Agent Leroy Jethro Gibbs since the very first episode of the series 18 years ago. Harmon revealed why he left the show after wrapping up Gibbs' story in Season 19, Episode 4, saying, "What has always drawn me here is the character I play and to keep it fresh and to keep it challenging."
Gibbs' final appearance saw the special agent find peace in Alaska after he and his team were sent there on a case. Whether Gibbs has hung up his blue NCIS cap for good, however, is up in the air.
"I'm not retired," Harmon stated in the same DVD extra features interview. "The character is living in Alaska as far as I know."
In the same series of featurettes, executive producer Chas. Floyd Johnson ("JAG") noted that they deliberately left his plotline open.
"We left it to the fact that we didn't know if Gibbs could return," Johnson said. "He didn't say, 'I'll never come back.' There was sort of a hope that if there was ever a need, we might see Gibbs again."
Gibbs' departure left a gap in leadership in the NCIS Major Case Response Team that had to be filled. Last season of "NCIS" saw Special Agent Alden Parker, played by TV veteran Gary Cole ("The Good Fight"), take on the supervisory role for the team — a man whose work for the FBI initially connected him with Gibbs.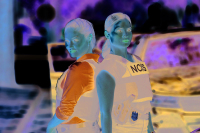 Vanessa Lachey and Katrina Law in "NCIS"
In a PaleyFest interview with Entertainment Tonight Canada, Cole spoke about Parker becoming the new supervisory agent, saying, "I just look at it as another character; I don't think it's a substitution or anything like that. The way they had my character enter was, I think, very smart writing because they had him involved with them first."
When asked about the prospect of another 20 seasons of "NCIS," Cole had a good laugh before joking, "That would take some special writing now, wouldn't it? Ten years from now, let's see. I don't know who I'd be chasing, but they'd better not be very fast."
If you're looking for a little sneak peek into the "NCIS" season premiere, CBS released a breakdown for the new episode, titled "A Family Matter." Parker and his ex-wife, Vivian (Teri Polo, "Good Trouble"), are still evading a threatening figure known as "The Raven," and with Special Agent Tennant and technology specialist Malik in D.C. for training, the "NCIS" team enlists their Hawaiian counterparts to crack the case.
In the "NCIS: Hawai'i" season premiere that follows, the agents follow leads to Oahu and collect intelligence on The Raven's disastrous plans.
In speaking to Entertainment Tonight this past May, Lachey expressed the relief and excitement that came with landing her dream gig as the "NCIS: Hawai'i" lead.
"I'm in my 40s," Lachey noted, continuing, "I have worked my whole life doing what I love, and now it's come to a place where it gets to be what I love in a place I love — Hawaii — with the people I love."
Lachey went on to say that spending time with her family in the 50th state and getting to write her book "all just feels very surreal but like all the hard work has come to fruition."
Fans of the franchise can also look ahead to an exciting new venture scheduled to make waves in 2023: "NCIS" welcomes its first international spinoff. As announced earlier this year, "NCIS: Sydney" will feature an Australian cast and stories about agents chasing nautical threats Down Under.
Don't miss the two-part crossover event when "NCIS" premieres its 20th season Monday, Sept. 19, on CBS, followed by the first episode of "NCIS: Hawai'i" Season 2.