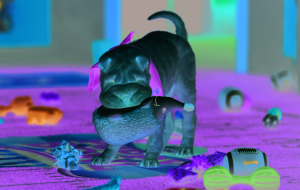 An adorable contestant in the Puppy Bowl
Ruff-and-tumble: Once every year, families and friends across the nation come together for one of the most furry sporting events there is. Nope, it isn't the other big game happening on Sunday -- although there might be a few sets of eyes watching that one -- but rather Animal Planet's annual Puppy Bowl, airing Sunday, Feb. 3.
Now in its 15th year, the Puppy Bowl just might be the most adorable sporting event on television. Puppies from shelters across America have converged on a custom-built football field that's sized just for them and filled with wonderfully squeaky toys. They're in for a day of runs, tackles and plenty of licks while the cameras capture their every move and experts give a running commentary.
Of course, young pups aren't exactly known for their common sense, and it isn't unheard of for their play to get a little bit too rough. Luckily, just like in a real sporting event, there's a referee on scene to break things up before they get out of hand. Actor and animal lover Dan Schachner ("Unforgettable") returns to the role for the eighth consecutive year, calling the plays as he sees them and benching any participant that takes things too far -- or any that seem too tuckered out to continue. Off the pitch, NBC journalist and animal lover Jill Rappaport provides running commentary and introduces the "Pup Close and Personal" segments that share the furry little athletes' heartwarming stories.
The Puppy Bowl isn't just a genius bit of counter-programming for less football-inclined audiences, it's also an amazing tool to draw attention to pet adoption and rescue. All of the puppies featured since the very first puppy bowl -- more than 500 in all -- have been from shelters and rescue organizations found all across the country, and each and every furry friend has found its forever home since appearing on the show.
It may be called Super Bowl Sunday, but the big game isn't the only sporting even happening. For a taste of something a bit different, check out the Puppy Bowl on Animal Planet.
Going batty: The Arrowverse is expanding yet again. CW's shared superhero universe includes "Arrow," "The Flash," "Supergirl" and "Legends of Tomorrow," and soon enough another hero might be joining the fight.
The network has ordered a pilot for "Batwoman," paving the way for a potential fifth series to join the Arrowverse. The announcement comes after a backdoor pilot during the shared universe's annual crossover event saw Ruby Rose ("Orange Is the New Black") suit up and take on the role of the legendary superhero.
Batwoman won't just be fighting bad guys, she'll be breaking barriers, too. If the pilot earns a full-series order, not only will it be the first superhero series to be helmed by a lesbian character, but it will also be headlined by the openly gay Rose.
"Batwoman" is CW's first pilot order this year, and it's in good hands: the project is being handled by David Nutter, who also helmed the pilots of "Arrow" and "The Flash." A pilot isn't a series order, but it's a good early step down that road. If things go well, expect "Batwoman" to join the Arrowverse next TV season.
The final raid: It's inevitable: all civilizations eventually come to an end. "Vikings" recently wrapped up its fifth season, but even that historical drama must give way before the march of time. Luckily for fans of the show, which was History's first ongoing scripted series, it has already received an order for a sixth season. Unluckily, that season will also be its last.
There is a glimmer of hope on the horizon, though. Series creator Michael Hirst, who's written every single episode, has been gradually moving the show's many pieces toward the endgame that he's been planning for years, hopefully avoiding the curse of a disappointing send-off. Not only that, but he's also early on in talks to create an entirely new series that would continue the story where "Vikings" leaves off.
That's great news for fans who can't get enough of the Norse heroes. Over five seasons, "Vikings" has told the story of the legendary Scandinavian king Ragnar Lothbrok (Travis Fimmel, "Warcraft," 2016) and his descendants as they explore new lands and raid their neighbors. The series has traveled from Scandinavia and England to France and the Mediterranean, and while the show itself is fiction, the major events that it depicts are loosely based on actual history.
"Vikings" may be coming to an end, but there's still a full season coming our way, and the potential spinoff could keep the epic going for years to come. With Season 5 recently wrapped, watch for Season 6 to premiere later this year.