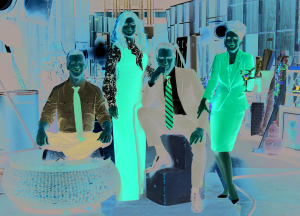 Sean Hayes, Debra Messing, Eric McCormack and Megan Mullally star in "Will & Grace"
Fans of "Will & Grace" can breathe a sigh of relief as their favorite revived sitcom returns from its brief holiday hiatus on Thursday, Jan. 31, on NBC. They won't have to wait another 11 years to see their friends Jack, Karen, Will and Grace on screen again.
Speaking of old friends, a familiar face joined the cast of "Will & Grace" for its latest season. David Schwimmer ("Friends") stars as Noah Broader, new boyfriend to Grace, who is played, of course, by Debra Messing ("Smash"). He joins the original cast which, along with Messing, includes Eric McCormack ("Travelers") as Will Truman, Sean Hayes ("The Millers") as Jack McFarland, and Megan Mullally ("Parks and Recreation") as Karen Walker. Leslie Jordan ("American Horror Story") also reprises his recurring role as the eccentric Beverley.
Schwimmer's role as Noah comes on the heels of a critically acclaimed portrayal of Robert Kardashian, O.J. Simpson's close friend and lawyer, in the Ryan Murphy-directed miniseries, "American Crime Story: The People v. O.J. Simpson." In "Will & Grace," Schwimmer's Noah is a local Twitter celebrity whom the main characters call the West Side Curmudgeon. He popped up at an event of Grace's, and the pair hit it off right away. Their budding, bumbling romance has grown and should keep evolving as the season progresses.
The main cast aren't the only part of the original "Will & Grace" series to return for its new seasons. Prolific, Emmy-winning sitcom director James Burrows has directed every single episode of "Will & Grace" since the show premiered in 1998, as well as episodes of some of the most popular shows of the past 40 years, including "The Mary Tyler Moore Show," "Cheers," "NewsRadio," "Frasier" and "Mike & Molly." With the confirmation of an 11th season order from NBC, it looks like there will be many more Burrows-directed episodes of "Will & Grace" to come.
A promotional clip for the current season featured the cast desperately running to catch a bouquet, and the question of whether wedding bells will ring still hangs over the new episodes. While Jack is currently the only member of the four who is engaged to be married, he is possibly the flightiest of the friends, so who knows if he will actually make it down the aisle. Jack proposed to his fiance on a whim, and largely out of fear that he could end up like Will and Grace -- together as single friends forever -- so the engagement didn't exactly have the most solid of starts.
"Will & Grace" broke barriers during its original run as an incredibly successful network series with gay principal characters. The sitcom's impact on American culture is even highlighted with a display of show props at the Smithsonian's LGBT American History collection. Though "Will & Grace" was credited with some LGBT inclusion milestones in the late 1990s and early 2000s, McCormack insists that it also serves as an example of how quickly culture can move forward and forge new paths.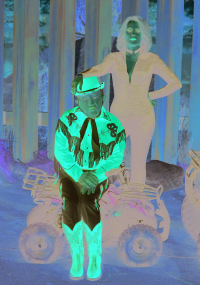 Leslie Jordan and Megan Mullally in a scene from "Will & Grace"
In an interview with the Sydney Morning Herald, McCormack shared that returning to the role of Will has been rewarding and a chance to give back as a "straight-guy ambassador to the rest of the world for a community that has been shouting for a long time to be heard and recognized." While he is grateful to return to the role, he is aware of how tides have shifted when it comes to casting straight men like him as gay characters on screen. McCormack shared that he is "glad that nowadays Will Truman would probably be cast with someone who is gay" and that McCormack himself "probably wouldn't get anywhere near this role" if the series were created today.
Hayes spent his time between the original finale and the show's recent revival building up an impressive resume of executive producing credits, including "Hot in Cleveland," "Grimm" and "Hollywood Game Night." In an interview with the Sydney Morning Herald, Hayes said that getting back in front of the camera with the cast is "incredible," and that filming with a live audience is "the best feeling." He adds that "you feed off the audience -- as soon as there's a laugh, you maybe milk that moment or it gives someone else an idea to do something." No laugh track necessary on "Will & Grace!"
Don't miss the return of the "Will & Grace" revival when it airs Thursday, Jan. 31, on NBC.