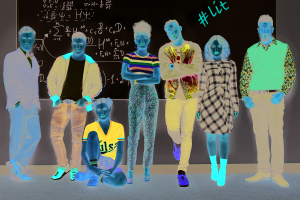 Chris Parnell, Jordan Buhat, Emily Arlook, Yara Shahidi, Trevor Jackson, Francia Raisa and Deon Cole from "Grown-ish"
Renewed-ish: Freeform is feeling bullish about one of its youth-oriented series. "Grown-ish" may have started life as a spinoff of a bigger show on a bigger network, but it has found its own voice and its own array of loyal fans, and the cable network recently renewed it for a third season.
The spinoff of "Black-ish" premiered in early 2018 and stars Yara Shahidi ("Salt," 2010) in the role that she originated in the parent series. She plays Zoey Johnson, a young woman living on her own for the first time as she adjusts to being a college student. She's taking her first steps towards adulthood, but, of course, there are lots of stumbles along the away --- and even more laughs. This is a sitcom, after all.
Over its two seasons, the show's strong cast has definitely been instrumental to the success of "Grown-ish." Trevor Jackson ("Superfly," 2018), Francia Raisa ("The Secret Life of the American Teenager"), Deon Cole ("Angie Tribeca"), Emily Arlook ("The Good Place") and Luka Sabbat ("The Dead Don't Die," 2019) all help round out the cast as Zoey's friends, classmates and professors, and Anthony Anderson and Trace Ellis Ross occasionally drop in as guest stars, reprising their roles as Zoey's parents from "Black-ish."
We're still deep in the midst of Season 2, and so far there's been a heavy undercurrent of cheating both on tests and on friendships as the young men and women test the boundaries of what they can get away with in life. While "Black-ish" is at its heart a story about a father determined to give his kids the best upbringing that he possibly can, "Grown-ish" is about what happens when one of those kids sets out on her own and has to learn to navigate at complicated and difficult world.
No announcement has been made about when the new season of "Grown-ish" will premiere, but a January start date is a good bet, since both previous seasons kicked off then.
The growing dead: The number of walkers just keeps growing. AMC's "The Walking Dead" premiered back in 2010, and quickly became one of the biggest shows on television. In 2015, it spawned a spinoff, "Fear the Walking Dead," which returns for a fifth season on Sunday, June 2. Both shows are still going strong (although "The Walking Dead's" ratings are nowhere near what they once were), and in the near future there will be a new addition to the "Walking Dead" family.
A new, so far untitled spinoff has been greenlit by AMC for a planned 2020 premiere. Set in a new corner of the "Walking Dead" universe, the new series will focus on young people who have only ever known the post-apocalyptic world that they were born into. Their reality is one that's overrun with zombies, and it's both shaped them and defined every aspect of their lives.
AMC's official description of the series says, "Some will become heroes. Some will become villains. In the end, all of them will be changed forever." Those are ominous words, but in "The Walking Dead," nothing is ever safe or easy.
"The Walking Dead" and its spinoffs are based on a popular series of comic books of the same name, and they put a horrifying twist on the zombie apocalypse genre. The show features a large ensemble cast that has shifted and changed over the years as the core group has added new survivors to its ranks and lost others to the hostile world.
Watch for the new spinoff of "The Walking Dead," which is expected to premiere on AMC in 2020.
More murder: Well, that didn't take long. BBC America's "Killing Eve" returned for a second season on Sunday, April 7, and it took less than 24 hours for the network to renew the series for a third season.
Canadian actress Sandra Oh ("Grey's Anatomy") stars as Eve Polastri, an intelligence officer who becomes obsessed with tracking down and capturing a notorious assassin (Jodie Comer, "Doctor Foster") who becomes just as obsessed with her pursuer. The show's first season met with critical acclaim, with critics lauding its mix of tension, humor, drama and action.
A new showrunner took the reins for the second season, but that didn't hurt the show at all. The Guardian newspaper called the second season the best TV show of 2018, and countless other critics included it on their lists of the year's top 10 shows.
At times, "Killing Eve" can feel like a half-dozen different genres all rolled into one; stylistically, it shouldn't work, but it's a testament to the showrunners, writers and actors that it somehow comes together and becomes screen magic. The second season is currently airing on BBC America.