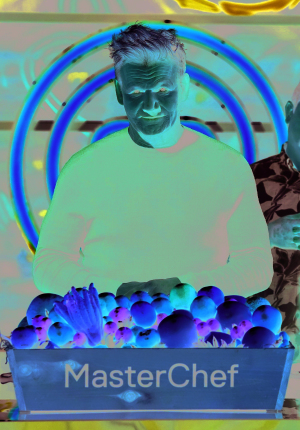 "MasterChef" host Gordon Ramsay
Recipe for Ramsay: Fox's culinary golden child isn't going anywhere any time soon. There may be a massive shakeup going on at the network as it's folded into the Disney family, but Gordon Ramsay is sticking with the channel that made him into a household name.
"MasterChef" crowned its ninth season winner back in September, with Nashville, Tennessee, English teacher Gerron Hurt taking home the prize, but the episode hadn't even hit the air before Fox had renewed the hit cooking competition for another season. Ramsay's the face of the show and has headlined it since the very beginning, and this past season saw Ramsay, "Chopped's" Aarón Sanchez and returning "MasterChef" judge Joe Bastianich each serving as a mentor to their own team of home cooks in addition to their usual judging duties.
There's no word yet on a premiere date, or even which judges might be joining Ramsay, but if past seasons are any indication, it will be part of Fox's 2019 summer slate.
"MasterChef" isn't Ramsay's only show on Fox -- far from it. The 18th season of "Hell's Kitchen" is currently going strong on Friday nights, freshman series "Gordon Ramsay's 24 Hours to Hell and Back" was renewed for a second season back in June, and "MasterChef Junior" had a casting call for pint-sized home cooks earlier this year.
"MasterChef," though, is the crown jewel in Ramsay's TV culinary empire. The series brings together some of the best home cooks in the nation who all have dreams of making careers out of their love of food. Under Ramsay's tutelage -- and that of the revolving group of fellow judges -- the culinary hopefuls tackle increasingly difficult cooking tasks until only one of them remains and claims the "MasterChef" title.
Ramsay is one of the faces of culinary television, and it seems that he'll remain at home on Fox for the forseeable future. You can currently catch him hosting "Hell's Kitchen" on Friday nights on the network.
Love thy family: John Goodman has found a home at HBO. The "Roseanne" and "The Conners" star will headline a new comedy that was recently ordered to series at the premium channel. "The Righteous Gemstones" may not have a premiere date yet, but what it does have going for it is a solid team of strong actors to back up the Golden Globe-winning star.
"The Righteous Gemstones" stars Goodman as Eli Gemstone, a televangelist known around the world for his charitable work and weekly TV show. What he keeps hidden from his devotees, however, is that behind the scenes, he and his family have a history of greed and deviance, and that he expects complete loyalty from those within his circle.
But that's just the backdrop to this whole affair. At its heart, it's shaping up to be a show about the whole Gemstone family. Series creator Danny McBride ("Pineapple Express," 2008) stars as Eli's oldest son, Jesse, who has dreams of taking over his father's empire and growing it for a modern world. Adam Devine ("Workaholics") and Edi Patterson ("Vice Principals") star as Eli's other two children, Kelvin and Judy, Cassidy Freeman ("Longmire") plays his wife, Amber, and Tim Baltz ("Bajillion Dollar Propertie$") plays his daughter's fiance, B.J..
It's a family affair in "The Righteous Gemstones," with production ongoing for a future release date.
Animation Hartland: Fox is beefing up its already extensive animation lineup. The network home of "The Simpsons," "Family Guy" and "Bob's Burgers" has put in a straight-to-series order for "Bless the Harts," a new animated series that will air as part of the 2019-20 TV season.
The new series already has its cast assembled, and it sure is an impressive one. Oscar nominee Kristen Wiig ("Bridesmaids," 2011), Emmy nominees Maya Rudolph ("The Good Place") and Jillian Bell ("22 Jump Street," 2014), and Ike Barinholtz ("The Mindy Project") are all lending their voices to the series, which has had 13 episodes ordered for its first season.
Coming from the mind of Emily Spivey, who won an Emmy for her work as a "Saturday Night Live" writer, "Bless the Harts" is about a group of Southerners who never seem to have enough money to make ends meet. While they struggle to achieve their dreams of wealth and increased status in their community, they never seem to realize that they're actually richer than they think -- rich in friends and family, that is.
That premise definitely sounds more heartwarming than some of Fox's other animated fare, but make no mistake -- "Bless the Harts" is a comedy before anything else. Spivey herself grew up in a close-knit Southern family, and with her serving as the show's executive producer, the jokes will come from a place of love.
The Harts join the Simpsons, Griffins and Belchers next fall on Fox.