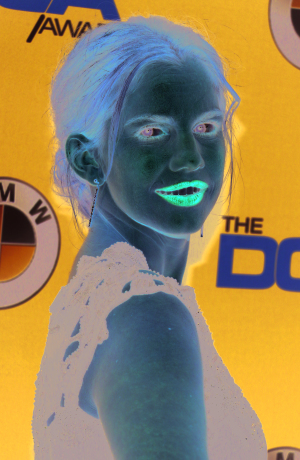 Anna Chlumsky is set to star in Showtime's "A Really Good Day"
'A Really Good' deal: Six-time Emmy nominee Anna Chlumsky ("Veep") is among the cast of Shonda Rhimes' upcoming crime series, "Inventing Anna," coming to Netflix in 2020. But after that, it appears Chlumsky may be heading to Showtime.
The actress, who got her big break as a child actress in "My Girl" (1991), is attached to a new dramedy series titled "A Really Good Day," which is currently in development at Showtime.
The series will be based on the book "A Really Good Day: How Microdosing Made a Mega Difference in My Mood, My Marriage, and My Life," by Ayelet Waldman. And you can guess by the book's full title that it's a candid, autobiographical look at the former public defender and mother of four's microdosing experiment with LSD.
No word yet on whether the series will closely follow the book or simply borrow the premise, but Waldman is penning the TV adaptation and will serve as executive producer along with her husband, "Star Trek: Picard" showrunner Michael Chabon.
Just last month, the husband-and-wife team signed a multi-year production deal with CBS Television Studios. "A Really Good Day" falls under that agreement, as does the planned adaptation of Chabon's Pulitzer Prize-winning novel, "The Amazing Adventures of Kavalier and Clay."
It's already taken 20 years for "Kavalier and Clay" to make it onto any screen. Chabon had been working with producer Scott Rudin to bring his 2000 bestseller to the big screen, and Sydney Pollack ("Tootsie," 1982), Jude Law ("The New Pope") and Ryan Gosling ("La La Land," 2016) are among the names that were attached to the title at various times. There was then talk of an eight-part series on HBO, but that didn't turn out, either. Now, given Chabon's multi-year deal, it looks like Showtime will be the one to help "Kavalier and Clay" make the leap from book to TV.
Stiller funny: Ben Stiller ("Zoolander," 2001) hasn't had too many acting gigs of late -- his most recent "actor" credit on IMDb is his recurring role as Tony Wonder on "Arrested Development" -- but that's only because Stiller is busy behind the camera.
As a producer, Stiller has several projects coming out this year, including the films "Dinner in America" and "Friendsgiving" ("Dodgeball 2" has also been announced as a future project). But his name is also attached to a new comedy series that may be of interest to TV viewers.
Through his Red Hour production company, Stiller is one of the executive producers behind the potential TV series "The Sidelines," which is in development at Fox. Former "Heroes" star Ali Larter will also serve as executive producer, but more importantly, she got the lead role.
Larter will play a newly separated, 40-year-old mother of two who sets out to realize her lifelong dream of being a professional cheerleader. She surprises many (and maybe even herself) by making the squad for a local football team. And given her life experiences, Larter's character soon becomes den mother to the younger cheerleaders.
So far, "The Sidelines" has landed a script commitment from Fox. "The Good Place" writer Kate Gersten is attached as series writer and co-executive producer.
And if the series gets picked up, it wouldn't be Larter's first role as a cheerleader: she played one nearly 20 years ago opposite James Van Der Beek ("Dawson's Creek") in the 1999 coming-of-age football film, "Varsity Blues."
Expanding 'Property': "Property Brothers" Drew and Jonathan Scott have built a business and TV empire through real estate deals and renovations.
But even after several seasons, series, spinoffs and specials, the Canadian home-rehabbing twins aren't looking to move out of their home at HGTV anytime soon. In fact, they recently renewed their deal with parent company Discovery Inc., and that means they'll be staying put until at least 2022.
Viewers can look forward to more new episodes of their Emmy-nominated flagship series. There will also be a new season of "Brother vs. Brother" and many more episodes (40, to be exact) of "Property Brothers: Forever Home," which became HGTV's highest-rated premiere when it debuted last May. The spinoff has since been picked up by a number of other broadcasters worldwide, which isn't surprising since the "Property Brothers" franchise is already known to audiences in more than 160 countries.
What else do the brothers have in store for us in 2020? They're showing no signs of slowing down -- if anything, they're poised to have an even bigger year.
When Variety first broke the news of the brothers' renewed deal, the exclusive alluded to a brand new TV project that was in the works, along with plenty more digital content.
And instead of flipping homes, Drew and Jonathan are encouraging fans to flip through the pages of their newly launched magazine. The first issue of "Reveal" hit newsstands on Jan. 10. Along with home decor and design-focused pieces, the magazine includes lifestyle features on a variety of different subjects -- family, food, travel, outdoor living -- that tie into the brothers' "dream big" life philosophy, which has clearly served them well.